Year 4
Click here for our Year 4 Curriculum 
Welcome to Year 4 at The Discovery School!

Year 4 is made up of 3 classes and we are located in the Cathedral End of the school. 

Archimedes
Miss Meiners
Mrs Moore (Monday - Thursday)
Mrs Rayward (Friday)
Berners-Lee
Mrs Ingles
Mrs Healy (Tuesday, Wednesday and Thursday)
Mrs Madden (Monday and Friday)
Hubble
Mrs Moore
Mrs Stiff
Mrs Brown (Mornings)
Should the need arise, feel free to contact us using the following options:
Telephone 01732 847 000 – ask the office for a call back and the class teacher will call back at a convenient time.
Email the office if there is a change with pick up arrangements, appointments, absences etc - office@discovery.kent.sch.uk
Or contact the teachers directly via email.
Mrs Ingles, Berners-Lee - ringles@discovery.kent.sch.uk
Miss Meiners, Archimedes - hmeiners@discovery.kent.sch.uk
Mrs Moore, Hubble - lmoore@discovery.kent.sch.uk
The year group leader for Year 4 is Mr Hipkiss who is an Assistant Head Teacher for the school.  Please contact him, via his email address, for any concerns that have not been resolved after a conversation with the class teacher:phipkiss@discovery.kent.sch.uk
Topics
Our Topic in terms 1 and 2 is 'Raging Romans'. 
English: key text - Escape From Pompeii
English objectives and SPAG will also be covered across the breadth of the curriculum. 
Mathematics: Multiplication table tests, number skills, place value, calculations for addition and subtraction (written and mental methods), length.
History - The Roman invasion and settlement of Britain, its impact and legacy. 

Geography - European countries, capitals and physical features. Comparing regions in Britain and Europe. 

Music - Ukulele and Charanga - developing the music making skills of Year 4. 

Art - Mosaics, Michelangelo (water colours)

Science - Animals, including humans (teeth and digestion) and Sound.

Computing - Internet safety, checking the reliability of sources online. Researching aspects of Roman life. 

PSHE - Growth mindset and Resilience. Esafety. Social Emotional and Mental Health. How we learn and overcoming barriers to learning.

RE - Why do people pray? The nature of God.

PE - Football, hockey, multi-skills and gymnastics.

French - Describing people and time. 

DT - Pizza making and food hygiene. 

Our Topic in terms 3 and 4 is 'Around the World'. 
English
Key text - Kensuke's Kingdom.
Reading: to develop positive attitudes to reading, use dictionaries to check the meaning of words they have read, increasing familiarity with a wide range of texts, discuss key words and phrases, drawing inferences such as inferring characters feelings, thoughts and motives from their actions and justify inferences with evidence, predict what might happen from details stated and implied.
Writing composition: organising paragraphs around a theme, non-narrative materials, simple organisational devices, planning and organising a discussion text, creating a setting and describing a character. 
SPaG: Create settings and characters, use a range of conjunctions, choosing nouns appropriately, adverbs, prepositions, fronted adverbials, commas for clauses.
Mathematics:
Multiplication - factors, written methods of multiplication (grid method and long multiplication), multiplying 3 digits by 1 digit
Division - dividing three digits by 1 digit
Area - counting squares, rectilinear shapes
Fractions - equivalent fractions, fractions greater than one, counting fractions, adding fractions, subtracting fractions
Decimals - recognising tenths and hundredths, dividing 1 digit by 10, dividing 2 digits by 10, dividing one or two digits by 100
Geography - Counties in England and places in Europe, locating the Tropics of Cancer and Capricorn, human and physical features.  

Music - developing the music making skills of Year 4. 

Art - Hokusai, Esher, Printing and Texture, clay animals

Science - Electricity and Circuits. Conductors and insulators.

Computing -  Programming and control (e.g. Scratch). 

PSHE - Regulating our feelings, Healthy living, anti-social behaviour and barriers learning. 

RE - Christianity, Islam and Hinduism. Why do people believe in God and how is belief shown? Why do many people not believe in God?

PE - Tennis, athletics, dance, tri-golf.

French - Festivals, weather, direction and numbers.

Our Topic in terms 5 and 6 is 'The Anglo-Saxons'. 
English: key text - Beowulf.
Mathematics:  Statistics, Money, Position and Direction, Time, Fractions, Decimals, Multiplication and Division.    
Geography - Settlements in Britain, Similarities and differences between the South of England and Denmark, compass directions, human and physical features of the local area

History - Anglo-Saxon life in Britain and its legacy

Music - Ukulele and Charanga - developing the music making skills of Year 4. 

Art - Drawing, painting and sewing.

Science - Living things and their habitats, states of matter

Computing - Creating websites, film, databasing. 

PSHE - Mental health, families and love, different viewpoints, respect of others, making choices about the environment, diversity, stereotypes, money and jobs. 

RE - Christianity, Islam and Hinduism and non-religious groups. 

PE - Cricket, rounders, rugby and yoga.

French - Food, French-speaking countries, clothes and colours.
Class Timetables for the term
Please be aware that timetables are subject to change depending upon circumstances.
Homework
Reading every night – to be recorded in the reading record which should be brought in on a Friday. Children are still expected to read every night. Further reading material for the weekend can be accessed through the online reading scheme 'Bug Club'. https://www.activelearnprimary.co.uk/login?c=0
Weekly spellings to learn - The children will be tested on these weekly. A copy of the spellings for the year can be found below.
Times Tables - Children will be assessed every week through the use of speed grids. 
Spelling
A list of the spellings we will be covering this term can be found below. Each week your child will be expected to learn their spellings for a test. Archimedes, Hubble and Berners-Lee will be tested on the spellings on a Friday each week. All children will have a week to learn their spellings. You can also find a copy of the spellings for the term in your child's reading record.
Some activities you may wish to use with child to help them learn their spellings are:
Look, Say, Cover, Write, Check

Rainbow Write

Playdoh modelling

Writing in chalk

Make flashcards

Create own crosswords

Look up definitions

Find examples in their reading book
Times Tables
Primary-school children in Year 4 are expected to know all their times tables up to 12 x 12 under the current National Curriculum. To prepare them for this we will be providing pupils with the opportunity to practice their times tables knowledge using the following FREE link:
https://www.timestables.co.uk/speed-test/ 
As explained, during our meet the teacher evening, each week your child should be practising their times tables. They will be completing a speed grid in school each week, where they have 6 minutes to answer as many times table questions as they can. This will then be marked and the class teacher will identify a times table for your child to learn each week - please find this information in your child's reading record. The speed grids are differentiated to cater for all abilities. Examples of the speed grids to be completed can be found below.
Activities to help you and your child:
Times tables games can be found online

Use the practice sheets below to focus on a times table

Make flashcards

Create times table songs or poems 
After completing the speed grid, your child will move onto a differentiated Mental Maths paper each week .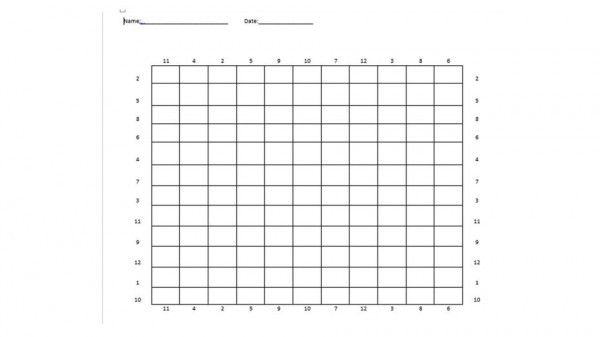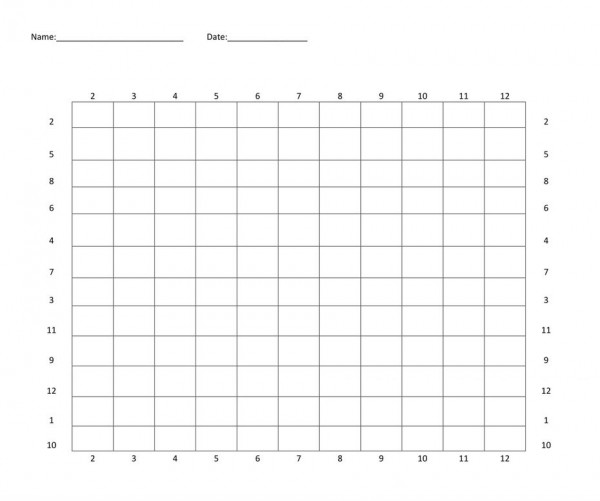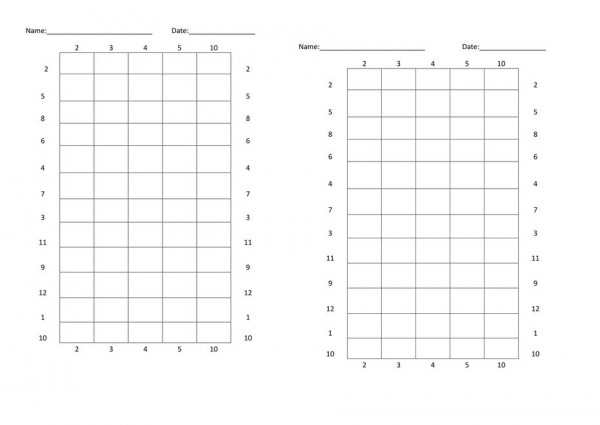 Helpsheets
Provision Map
Please click here to access the whole school provision map outlining all the interventions taking place in the school.  If you have questions about any of the provision that is taking place for your child, please ask your child's class teacher.