Year 2 Learning Updates
Term 5
Where has the time gone? It is hard to believe we are at term 5. It has been a busy and exciting term so far. We have had visits from Florence Nightingale and Mary Seacole. We have also celebrated and learnt all about King Charles III. The children have enjoyed the warmer weather, when we have had it! Here are some pictures of our events.
Wow! What a busy, fun week!
This has been an amazing week for Year 2! The children started the week learning about forces from Professor Lucy Bubble Works. The children then used several computer programs to turn themselves into Samuel Pepys! Then the children made walls in the same way they would back in 1666! Mrs Chapman made wooden frames and the children weaved sticks through to make the 'wattle' part. Then the children mixed water, hay, mud and compost (which represented the manure part) to make the 'daub'. The children have also completed their Great Fire of London art, an Easter Egg hunt and British Science week. Phew!
Now it is time for a rest! Have a very Happy Easter break.
World Book Day
We really enjoyed celebrating World Book Day and dressing up as our favourite book characters. Although at The Discovery School everyday is book day!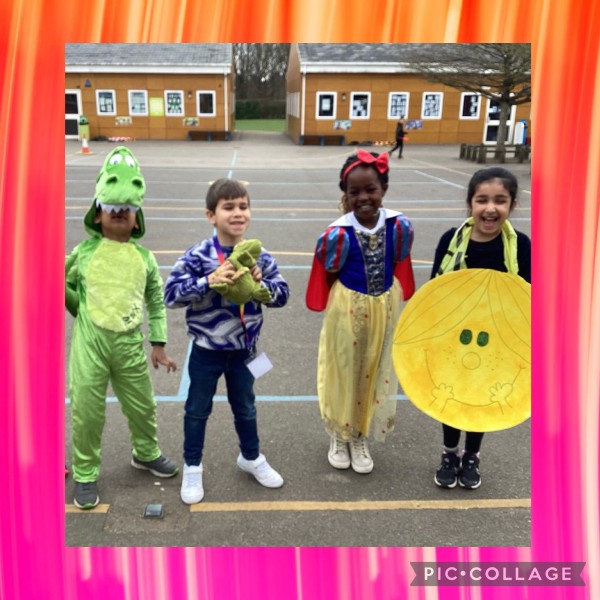 Term 4 Science
This term we have been learning about seeds and plants. We have learnt what seeds and plants need to grow. Here is an example of one of our experiments.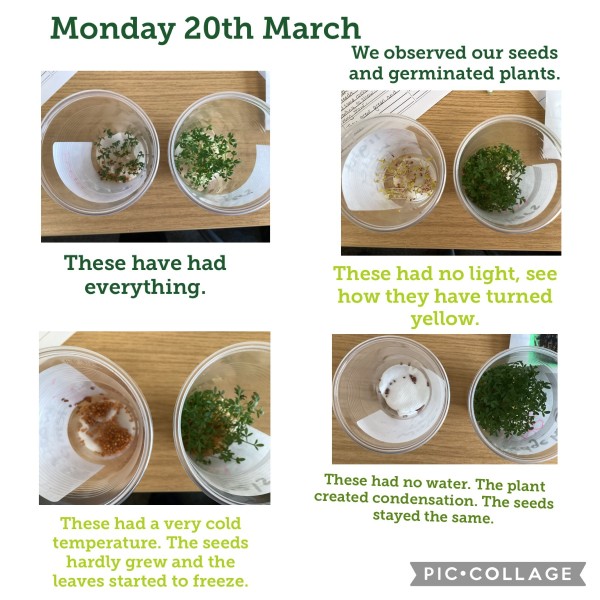 Week 1 Term 4
Wow! The children have made an excellent start to the term. We really enjoyed participating in the Great Fire of London workshop. It was a lovely way to start our learning question.
Term 3 How is Kings Hill different to the Arctic?
This term has flown by. The children have really enjoyed reading and using 'The Great Explorer' by Chris Judge. With this text the children have learnt about contractions, conjunctions and homophones. The children have written short, descriptive paragraphs and they have written a story. To complete our topic the children have compared Kings Hill to a small village in the Arctic, called Alert and they have used their skills to write a poster comparing the two places. As part of our Geography learning the children have learnt about the seven continents, five oceans and where the equator is! In English we have developed our reading and spellings using our validated scheme FFT 'Success for All'. 
The children, in maths have learnt about 3d shapes, patterns and they have learnt different methods to add and subtract.
In PE the children have looked at maps of the school to find to locate different items and they have learnt the skills of attacking and defending.
In Science the children have explored materials and used scientific language to describe the properties of materials and why they are used for certain things. The children have learnt the words transparent, opaque, absorbent and waterproof.
In Art the children have explored different media and tools inspired by the artist Corey Barksdale and the illustrations in 'The Great Explorer'.
We have also learnt lots in other subjects including PSHE, RE, Computing and Music. We have also participated in Mental Health Week, Internet Safety Day and Forest School.
Phew! I think the children need a break, ready for a fantastic term 4.
Here are some photos of the children at work!
Year 2 Performance of 'Three Kings'
We loved performing this song from our Christmas Play for our Carols in the Hall performance!
Sewing
The children really enjoyed their special DT day. They explored, designed and made their very own Christmas Stocking. The children used a running stitch to join the fabric. It took a lot of of perseverance and patience. If you came in to help us with the sewing, thank you, it was so lovely to have you.
A very muddy Forest School visit!
The children in Gilbert class went to Forest School this week. The morning group got very wet and the afternoon group got very muddy. Both groups had a wonderful time, learning how to dig, drill, keep themselves and others safe in the Forest. Thank you to Mrs Chapman for providing so many fun and educational activities for us. 
Raising money for Remembrance
Thank you for sending in donations to the Royal British Legion. The children not only enjoyed spending their money and buying lovely Poppy items, they also understood the reason behind Remembrance Sunday. 
Odd Socks Day
As part of Anti-Bullying week we wore our odd socks to school to remember we are all different and special. We discussed what bullying is and what to do if it ever happens to us or a friend. 
Pumpkin Poetry Week 1 Term 2
We explored pumpkins using our senses. The words we created to describe the pumpkins are called adjectives. We are going to use these words to write our own pumpkin poems!
Diwali Celebrations 
We participated in our whole school celebration of Diwali. Year 2 were challenged to make Mendhi hand designs. These are normally made with henna, but we used paint and an icing bag. It looks really easy to do but it is actually very difficult. We persevered and had a lot of fun. We really enjoyed the assembly with a visitor who told us all about Diwali celebrations and the special story of Rama and Sita.
Year 2 Term 1 2022 2023
We are so proud of the wonderful start the children have made to year 2! They have been busy developing their friendship skills through our learning question 'What is Friendship?' The children have been learning about friendship in our PSHE lessons, English lessons and through daily collaborative work. We also had a special visit from Fantastic FRED, (Food, Rest, Exercise and Devices) which helped the children learn about taking care of their well being.