Computing & E-Safety
Safer Internet Day 2021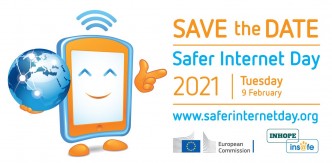 During this academic year, Safer Internet Day will take place on Tuesday 9th February 2021. The focus of Safer Internet Day this academic year will be to celebrate the amazing range of information and opportunities online, and its potential to inform, connect and inspire us, whilst also looking at how young people can separate fact from fiction (fake news!).
This video below explains more about Safer Internet Day theme for this year. 
The Discovery School are proud to be working in partnership with Safer Internet Day this year, and we will be posting some of the learning that the children have been creating here on the website over the week. 
As part of our remote learning, children were set the challenge to design a poster for Safer Internet Day 2021. Below is our gallery of posters. 
Below are some activities and links which children can explore as part of Safer Internet this year. Never has it been more important that the children know how to safely use the world of the internet, as well as knowing what and who they can trust. This is especially important at the moment as all of our children are currently remotely learning.  Please ensure that you are with your children whilst they are exploring these resources. 
Safer Internet Day Quiz - how much do you actually know about trusting what you see and read on the internet? https://www.saferinternet.org.uk/safer-internet-day/safer-internet-day-2021/safer-internet-day-2021-quiz
Digiduck Stories - there are 3 stories which help children understand how to behave in a digital world safely. https://www.childnet.com/resources/digiduck-stories These stories are suitable for children in EYFS and KS1. 
What can you trust online? 
A 3 minute video helping children to begin to think about what they can trust online. https://vimeo.com/480849087 
SMART Crew -  a range of videos and activities to help support children in KS2 to understand how to navigate the online world. https://www.childnet.com/resources/the-adventures-of-kara-winston-and-the-smart-crew/smart-crew-guidance-and-activities 
Have a look at our special school assembly for Safer Internet Day too. 
https://sway.office.com/i6RBRoQTAT2bUmRH?ref=Link 
 Information for Parents and Carers 
Below are a selection of website which have a range of resources and advice on many aspects of life online.