Forest School and outside learning
Outdoor Learning
The Discovery School embraces the benefits that outdoor learning experiences can have on our children. It can provide children with hands-on experiences in nature and enhances their learning through using their senses. In addition, regular exposure to nature can improve a child's well-being by decreasing stress and anxiety as well as helping to elevate mood and emotions.  Furthermore, the outdoor environment can naturally inspire children to become more physically active and motivate them to work together in groups which can develop their social skills.
We believe outdoor learning can enhance a child's well-being which in turn makes them healthier, happier individuals who tend to do better academically.  At the Discovery School, not only do we have the use of the school playgrounds and field to experience outdoor learning, but also Forest Schools, the school allotment, Discovery Walk and Eco-Club.
Forest Schools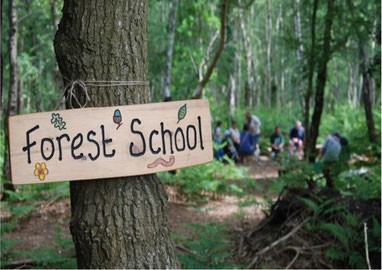 Forest school is inclusive to all children.  Through regular sessions of hands-on learning experiences in a natural environment, it enables children to develop physically, emotionally and creatively as well as improve their well-being, self-confidence and self-esteem.
New to 2021, we are pleased to announce that Forest School is up and running! Our internal Forest School Practitioner has designed a programme to ensure that the children experience Forest School through all the seasons come rain, snow or shine and is concentrating on providing sessions to EYFS, Year 1 and Year 2 across this academic year.
Have a look at this video to some of the benefits of Forest School
For further information about the history and ethos of Forest School, please click here.
Forest School - Year 1 
Year One were the first to experience The Discovery School's new Forest School provision this year. The children experienced the autumnal weather come rain or shine. It is amazing how different the temperature can vary between sessions. During one session, the children had great fun watching the water slosh off the tarpaulin shelter, some were even brave enough to run underneath the deluge, Brrr!
If that wasn't their thing, then there were lots of different activities to keep them busy from digging in the mud pit, to developing their tool skills in the work shop area. Over the course of their sessions, the children had the opportunity to learn how to secure wool to a stick using a clove hitch (and if they wanted to, secure two sticks together with square lashing). Some decided to wind wool around a stick to make a wand, whereas others tied sticks together and formed their own string stick art. An autumnal mobile not only got the children to think about the signs of autumn, but also learn how to use a bradawl and palm drill to drill holes in leaves and conkers, then thread onto wool to make their mobile.
The next challenge was to drill a hole into a wooden disc, which required a lot or perseverance as the wood was much harder and therefore more difficult to drill. The sense of achievement once the hole was complete was immense! Guy Fawkes was the inspiration for the final workshop session where the children could combine all that they had learnt so far with the tools as well as learn how to whittle the bark off the stick with a peeler.
Each session finished with talking about how they had got on over a mug of hot chocolate (or warm orange squash). Some children even wanted to have a go at lighting their own fairy-fire which was conducted over the watchful eye of Mrs Chapman. Great fun was had by all, adults and children alike and they can't wait for their next session in Winter!!
Discovery Walk
Discovery Walk is a wonderful area within the school grounds which provides a class of 30 children invaluable outdoor learning experiences.  It is a sustainable outdoor classroom with unlimited learning opportunities.  You can make wonderful 'meals' or potions in the mud kitchen, or create a musical concert to perform to your friends with the upcycled pots and pans instruments.  Maybe you just want to relax with your friends and grow some edible crops in the tractor tyres or become Bear Grylls and make your own shelter.  The bug hotels, bird and animal homes encourage a variety of flora and fauna which also supports scientific learning as well as inspiration for creative lessons such as art or poetry. 
Allotment
Another opportunity for an outdoor learning experience is the Discovery School allotment.  We have a small orchard area, soft fruits such as strawberries and currants and raised beds for each year group where we use a crop rotation system.  This helps create a sustainable environment using the crops to replenish the soil with nutrients or aerate to improve soil texture.  In addition, the crop rotation ensures that each year group gets to grow a variety of crops.  We continue the ethos of sustainability by harvesting rainwater in water butts to water the plants, upcycle single use plastic for seed trays and plant containers and compost the compostable waste.
Sunflower Race
To encourage use of the allotment, the Eco-Club launched 'The Great Sunflower Race'.  Each class were given sunflower seeds, soil, pots, labels and instructions and the race is on... There are some close contenders at the moment so the children need to make sure that they keep their plants watered and supported. Who will be the winner?
Crops
We are well into the growing session and have a selection of crops enjoying the much needed rain.  At the moment there are; sweet peas, chickpeas, lettuce, purple basil, chives, strawberries to name but a few, as well as the sunflowers of course.  
Busy Bees
Children across the school have enjoyed helping at the allotment with sowing, planting, weeding and watering.  Year 6 are showing great dedication and perseverance by maintaining their raised beds throughout the year and growing difference crops for their World War II topic. 
Eco-Club
Welcome to the Discovery School Eco-Club.  We meet every Thursday after school and together we learn how to help the environment and to make it a better place. 
The Eco-Club is linked to the nationwide scheme Eco-Schools. Our main aim is to get the green flag and to be recognised as an Eco-School. There are nine different topics which we need to focus on. These are; litter, waste, energy, water, biodiversity, school grounds, transport, global citizenship and healthy living. 
Eco-Code
Congratulations!
A huge congratulations to The Discovery School for achieving the Eco-School Green Flag!
It is now proudly hanging by the main hall for all to see.
The Eco-Club, with support from the school and local communities, worked hard over the past few years to fulfil the criteria required for the prestigious Green Flag.  Not only have they improved their local environment focusing on the Eco-School topics; Waste, Transport and School Grounds, but they have also developed invaluable life skills.  These life skills were; teamwork, planning, confidence, leadership, critical thinking, increased environmental awareness, improved environmental behaviours and improved health and wellbeing.
The Eco-Club, with support from the school and local communities, worked hard over the past few years to fulfil the criteria required for the prestigious Green Flag.  Not only have they improved their local environment focusing on the Eco-School topics; Waste, Transport and School Grounds, but they have also developed invaluable life skills.  These life skills were; teamwork, planning, confidence, leadership, critical thinking, increased environmental awareness, improved environmental behaviours and improved health and wellbeing.
Waste topic:
After hearing about the alarming amount of plastic finding its way to our oceans, the Eco-Club wanted to focus on waste.  As part of this topic, the children weighed the amount of food waste from the kitchen every Thursday for two months.  This was before, during and after Waste Week.  The results were recorded and shared with the school and catering staff.   It resulted in a change of lunch menu and bin usage.  Waste Week got the whole school involved in an upcycled art competition.  Each class used single use plastic and other materials to create a piece of artwork.  The older classes included and environmental message too.  Representatives from FODS, Governors and School management were on the judging panel. It was a resounding success with all the children improving their environmental awareness.
Transport:
The Eco-Club were concerned about the number of cars near the school and surrounding areas during drop-off and pick-up times and wanted to do something about it.  Not only for the negative impact the pollution was having on the environment, but also the safety of themselves and their friends. The Eco-Club used the school transport survey to see how many children and staff drive rather than walk to school and are in the process of organising a walk to school scheme to reduce the number of vehicles.  Watch this space…
School Grounds:
At The Discovery School, we are lucky to have an allotment area at the Eco-Club were keen to get every class outside and growing different produce throughout the year.  They tidied, organised and labelled the equipment so that it is easy to find as well as check the viability of the seeds.  The seeds were catalogued into different crop groups to help with the crop rotation system that is in place.  This year we have managed to grow some fantastic sweetcorn and well as juicy tomatoes.  The aim was to have a big celebratory picnic, enjoying the fruits of our labour, but unfortunately this has to be postponed due to Covid-19 and lockdown. However, we hope to enjoy the picnic next year.
The above is just a few examples of want the Eco-Club have been busy doing over the past few years.  Unfortunately, Eco-Club is unable to run at the moment due to COVID-19 restrictions, however, we hope to continue to inspire, inform and involve as many people in our school community and beyond in making a difference to our World. Please help support us any way you can.
You can help minimise human impact on the planet by supporting their ideas of;
Walking or cycling rather than driving
Turn off taps when not in use
Collect 'warm-up' water to water plants
Switch off lights and appliances when not in use
Reduce, reuse and recycle waste
Create a habitat for minibeasts, for example, a wild flower patch, pond or minibeast hotel
Thank you,
Mrs Chapman (Eco-Co-ordinator)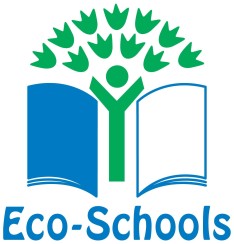 Diary Dates
1st - 5th March - Waste Week
20th March - Great Big School Clean
22nd March - World Water Day
21st - 25th May - Walk to school week
Eco-Tip
How to encourage biodiversity in your garden…
Provide food for birds. You can grow plants that provide food and/or, buy or make fat balls. 
Make a log pile or bug hotel.
Grow plants that are bee and insect friendly.
Have a pond or water feature.
Allow a patch of grass to grow longer or sow a wild flower meadow.
Look at the links below for more information...
Visit the RHS website to find useful information for encouraging wildlife into your garden.
Visit the Gardener's World website to find information on how to make your own fat balls.
Useful links: