Forest School and outside learning
Outside Learning
The Discovery School embraces the benefits that outside learning experiences can have on our children. It can provide children with hands-on experiences in nature and enhances their learning through using their senses. In addition, regular exposure to nature can improve a child's well-being by decreasing stress and anxiety as well as helping to elevate mood and emotions.  Furthermore, the outside environment can naturally inspire children to become more physically active and motivate them to work together in groups which can develop their social skills.
We believe outside learning can enhance a child's well-being which in turn makes them healthier, happier individuals who tend to do better academically.  At the Discovery School, not only do we have the use of the school playgrounds and field to experience outside learning, but also Forest Schools, the school allotment, Discovery Walk and Eco-Club.
Forest Schools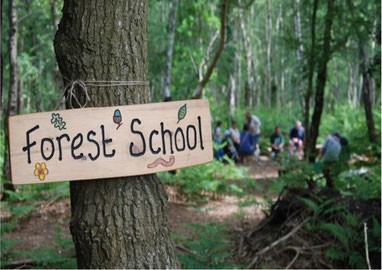 Forest school is inclusive to all children.  Through regular sessions of hands-on learning experiences in a natural environment, it enables children to develop physically, emotionally and creatively as well as improve their well-being, self-confidence and self-esteem.
Our internal Forest School Practitioner has designed a progressive programme to ensure that the children experience Forest School through all the seasons come rain, snow or shine and is concentrating on providing sessions to EYFS, Year 1 and Year 2 across this academic year. However, Mrs Chapman also offers outside learning experiences to Year 3 to Year 6 which links experiential learning to their curriculum.
Have a look at this video to some of the benefits of Forest School
For further information about the history and ethos of Forest School, please click here.
Forest School - Kit List 
Below is some guidance on what to wear for Forest Schools:
Waterproof jacket and trousers

Old clothes that parents don't mind getting muddy

Wellies (with thick, warm socks, or snow boots in cold weather)

Warm jumper and coat

Winter gloves and hat

Or sun hat and sun cream

Please wear lots of layers as it is easy to take layers off if necessary. The Forest School area tends to be cooler than the playground.
Also, please ensure your child has a dry set of clothes and shoes to change into afterwards, muddy play is encouraged.
Forest School - Activities
Here are some of the activities that we get up to during our Forest School sessions;
Combining scientific observation with creativity to make our own mini-beasts from natural objects.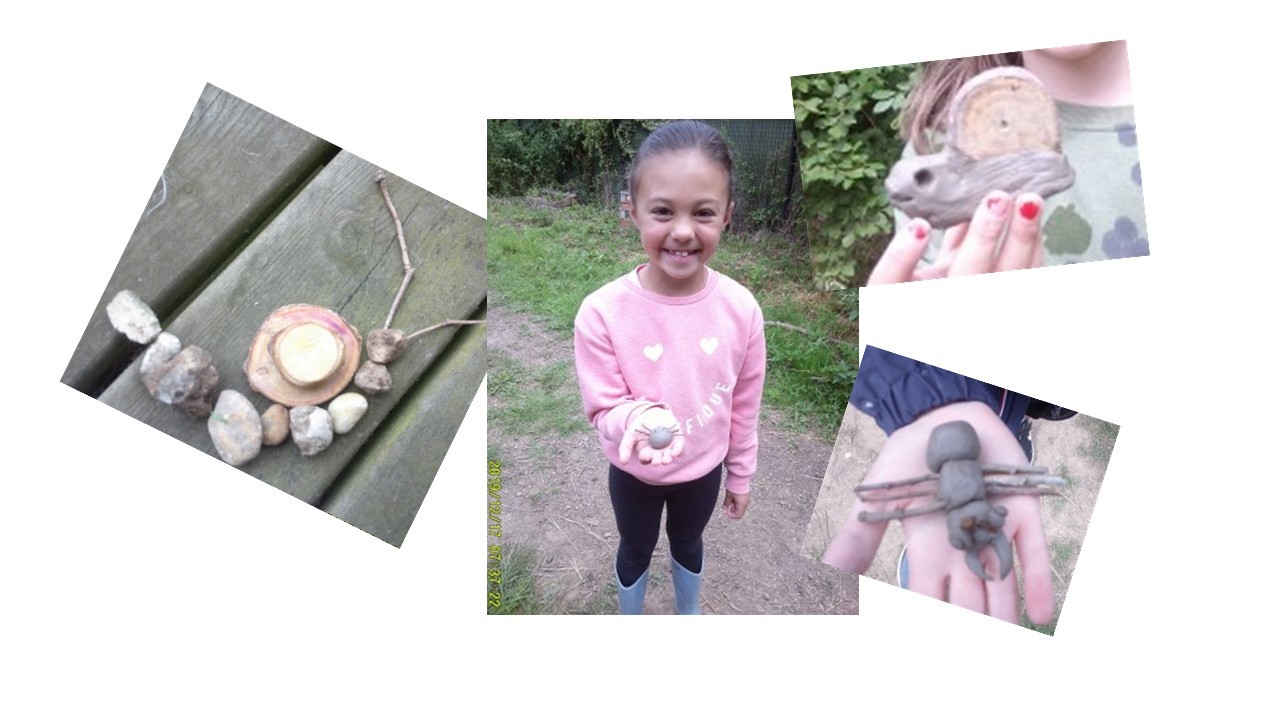 Improving our fine-motor skills with different activities such as pegging up leaf bunting, weaving a wool butterfly, wool stick art or threading natural objects to make a mobile.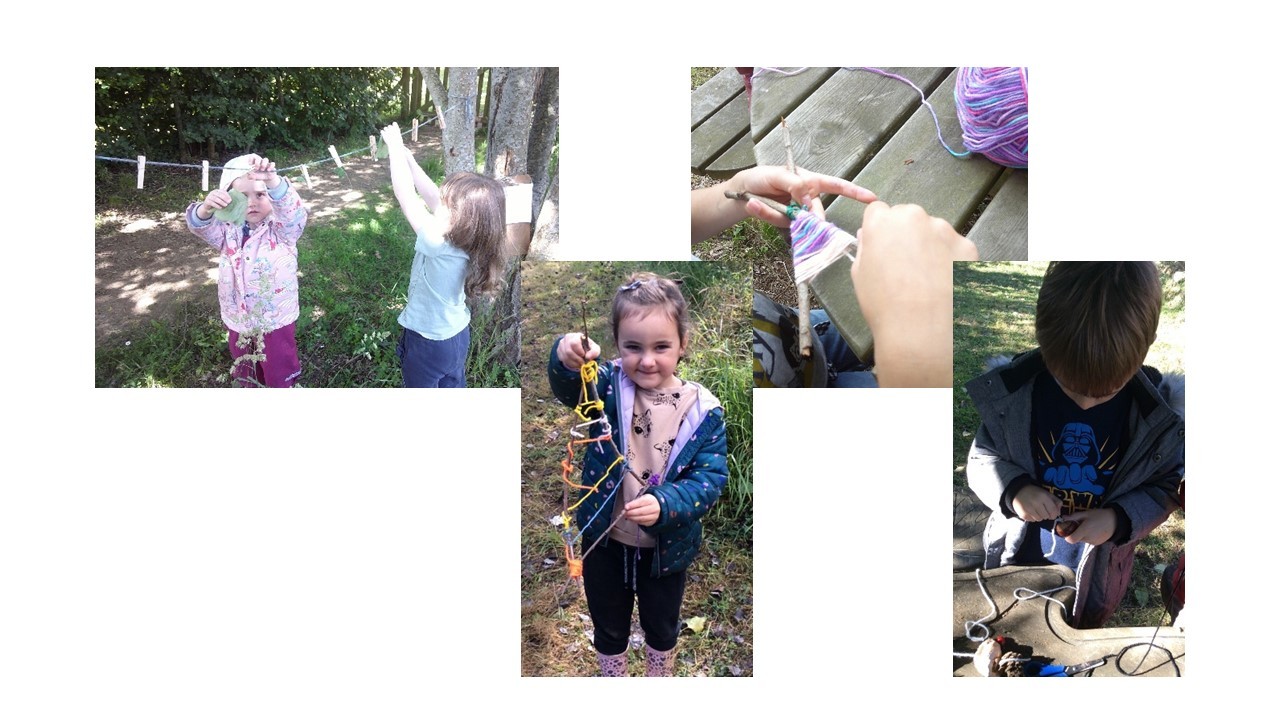 Giving our imagination full rein with digging for treasure or becoming mud monsters in the mud pit, creating culinary delights in the mud kitchen. Chocolate soup and chocolate muffins are a speciality!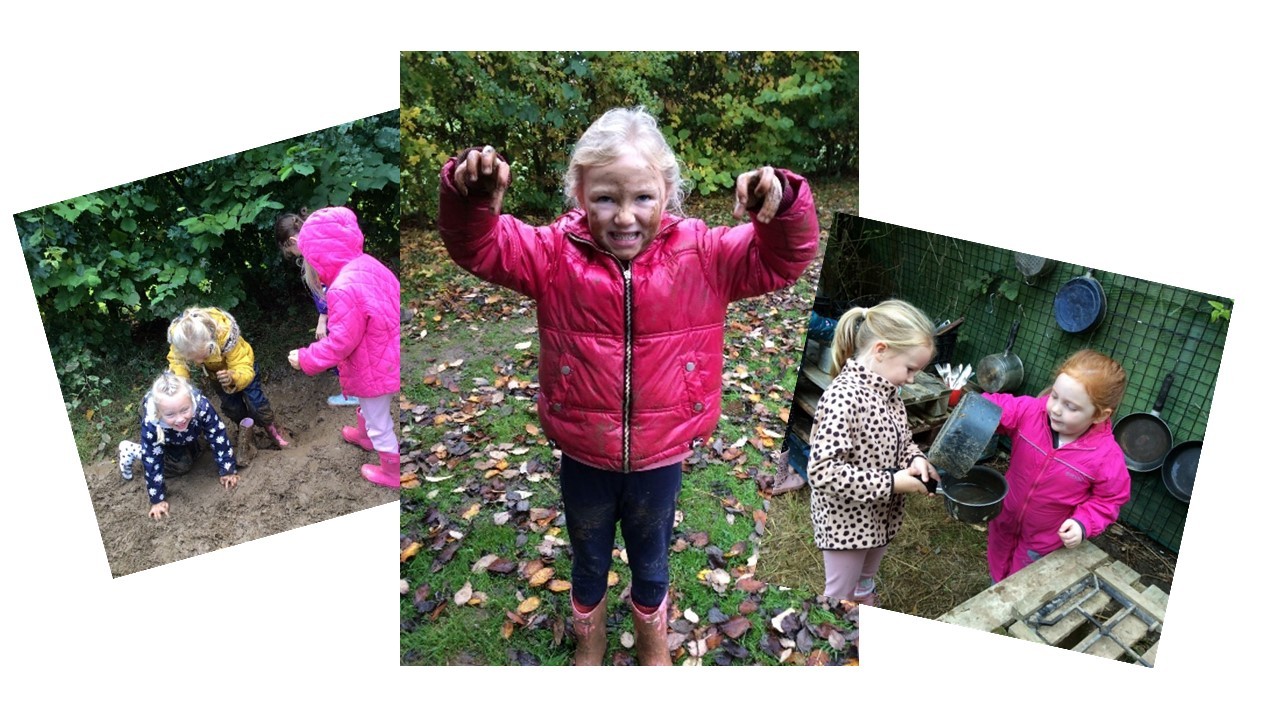 Developing our tool skills by using a bradawl, palm drill, peeler (for whittling) and hacksaw.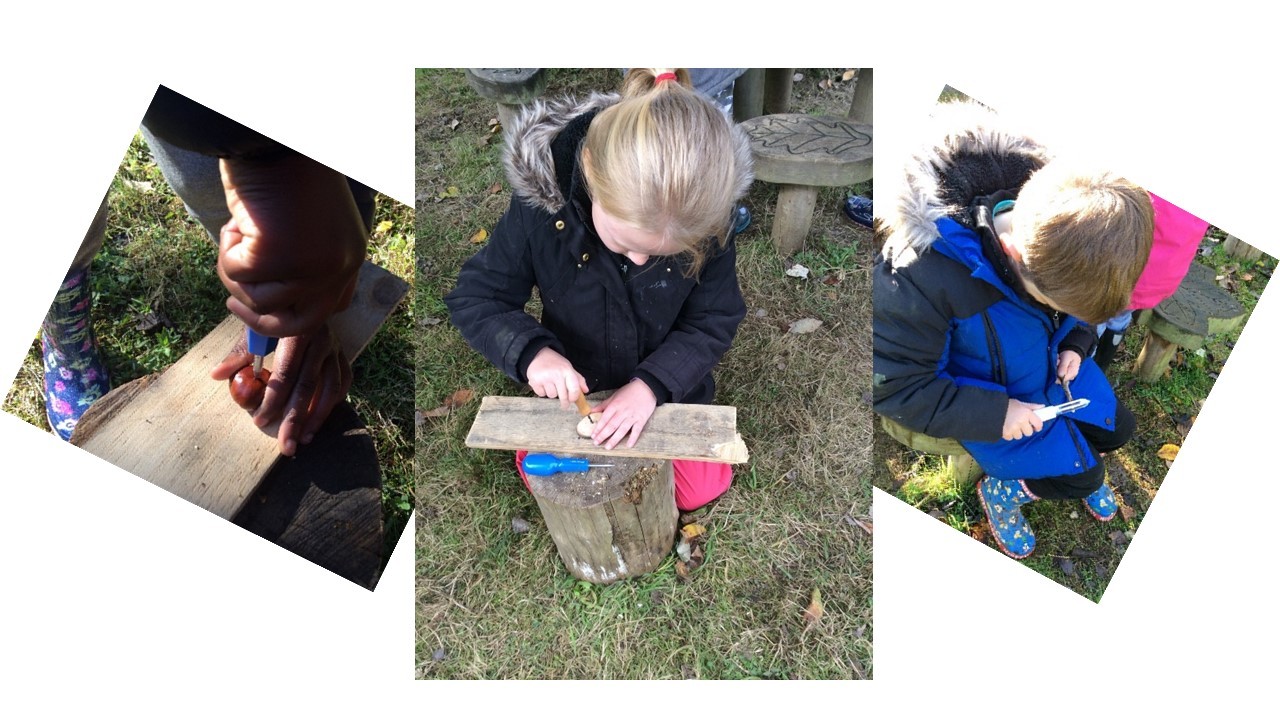 Exploring and learning about the natural environment through water play, bug hunting and seasonal scavenger hunts.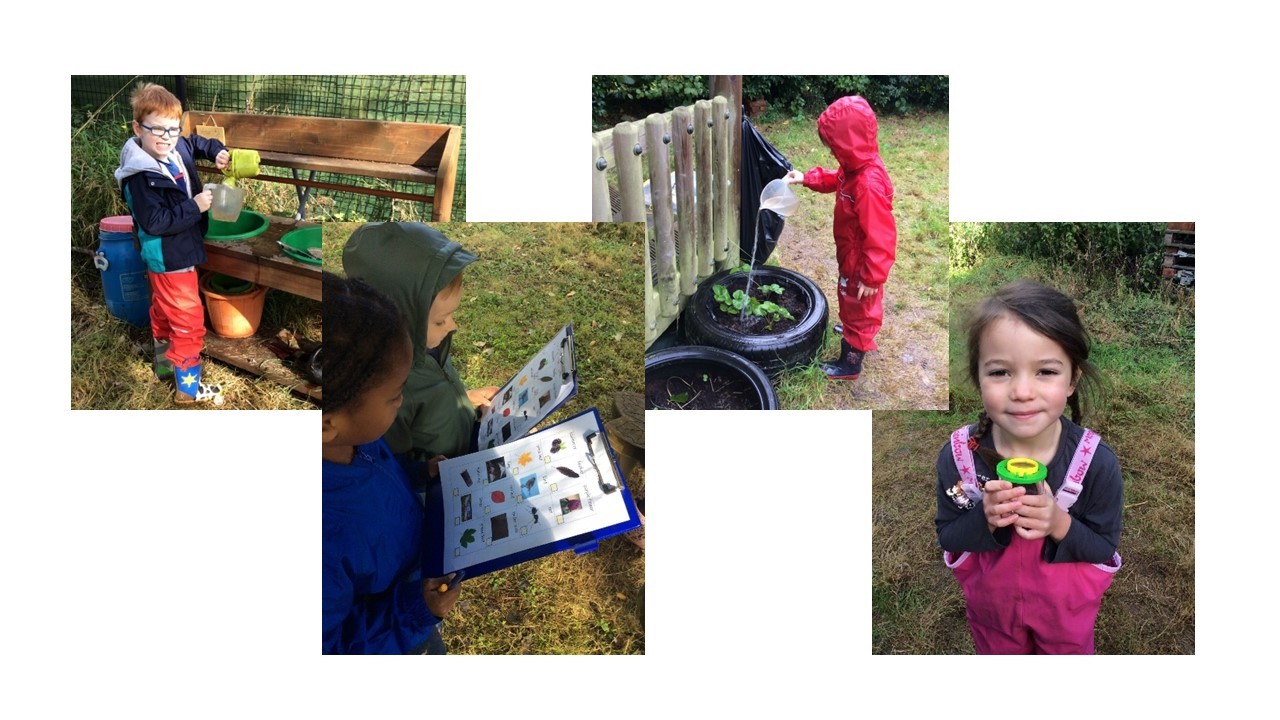 Introducing children to survival skills such as fire lighting (lighting a fairy fire) and den building.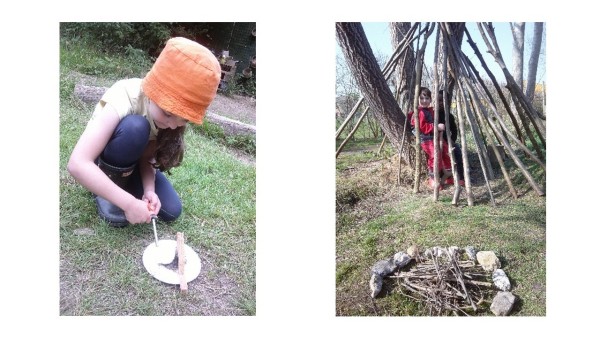 The children develop socially, emotionally, mentally and physically through collaborative work which is mainly led by themselves and supported by the adults.
The session ends with a group reflection around the fire circle drinking hot chocolate (or an alternative drink) and sometimes campfire cooking too.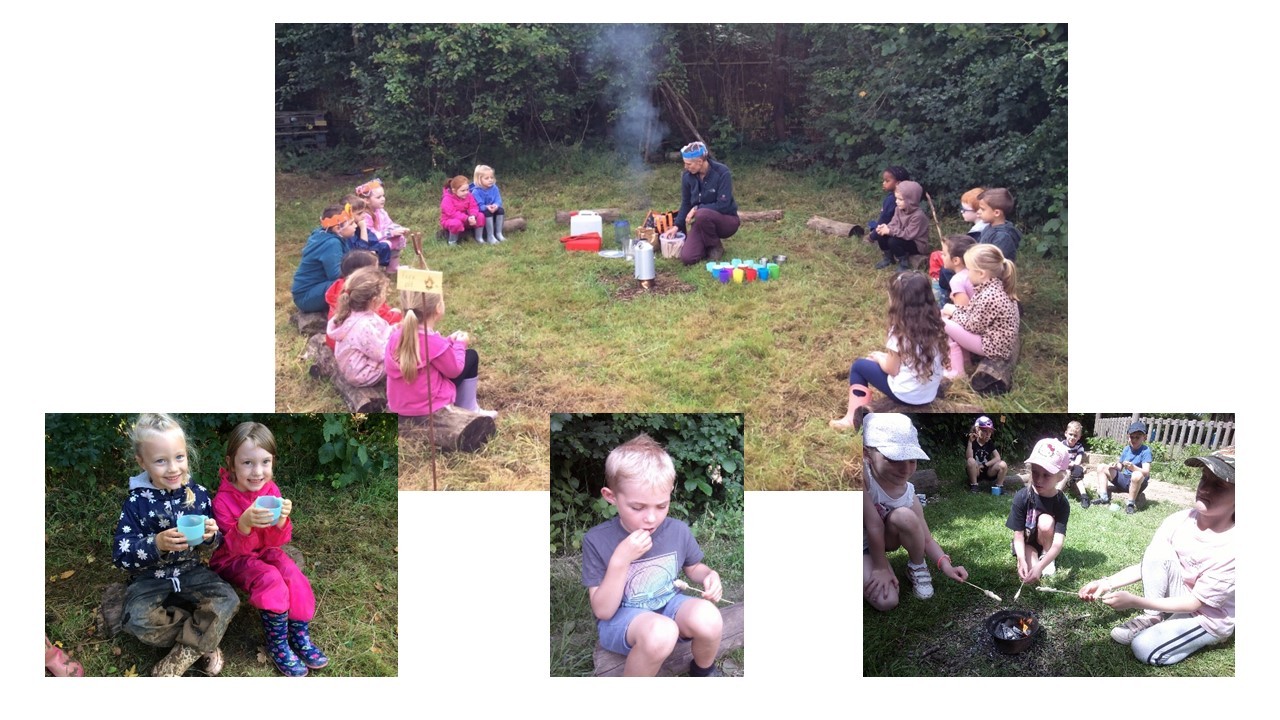 Quotes from some of the children;
"I love playing with my friends in Forest School" – Year 2
"I like using the tools in the workshop" – Year 2
"I liked making things" - EYFS
"I was scared to do the rope bridge, now I can do it all by myself!" – EYFS
"It was so much fun, I really enjoyed playing in the mud" – Year 1
"I liked drinking hot chocolate, because it was so nice and warm on a cold day." – Year 1
"I liked getting messy, playing in the mud kitchen and water play, I also learnt how to build a shelter with branches." – Year 1
"Forest school is fun and exciting learning outside." – Year 1
"I enjoyed playing in the mud kitchen and making nests for birds" – Year 1
"In Forest School I learnt how to make a hole in wood using a drill, it was so fun!" – Year 1
Forest School Leaflet
Forest School Handbook
Discovery Walk
Discovery Walk is a wonderful area within the school grounds which provides a class of 30 children invaluable outside learning experiences.  It is a sustainable outside classroom with unlimited learning opportunities.  You can make wonderful 'meals' or potions in the mud kitchen, or create a musical concert to perform to your friends with the upcycled pots and pans instruments.  Maybe you just want to relax with your friends and grow some edible crops in the tractor tyres or become Bear Grylls and make your own shelter.  The bug hotels, bird and animal homes encourage a variety of flora and fauna which also supports scientific learning as well as inspiration for creative lessons such as art or poetry.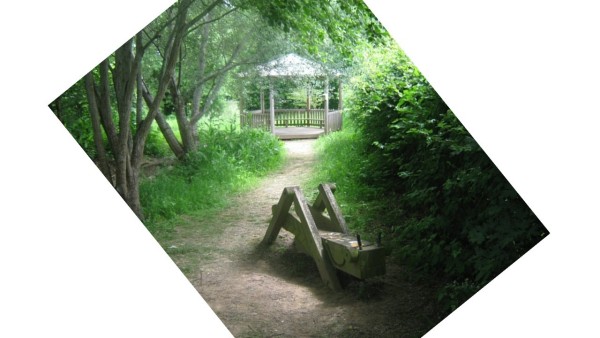 Some of the flora identified in Discovery Walk…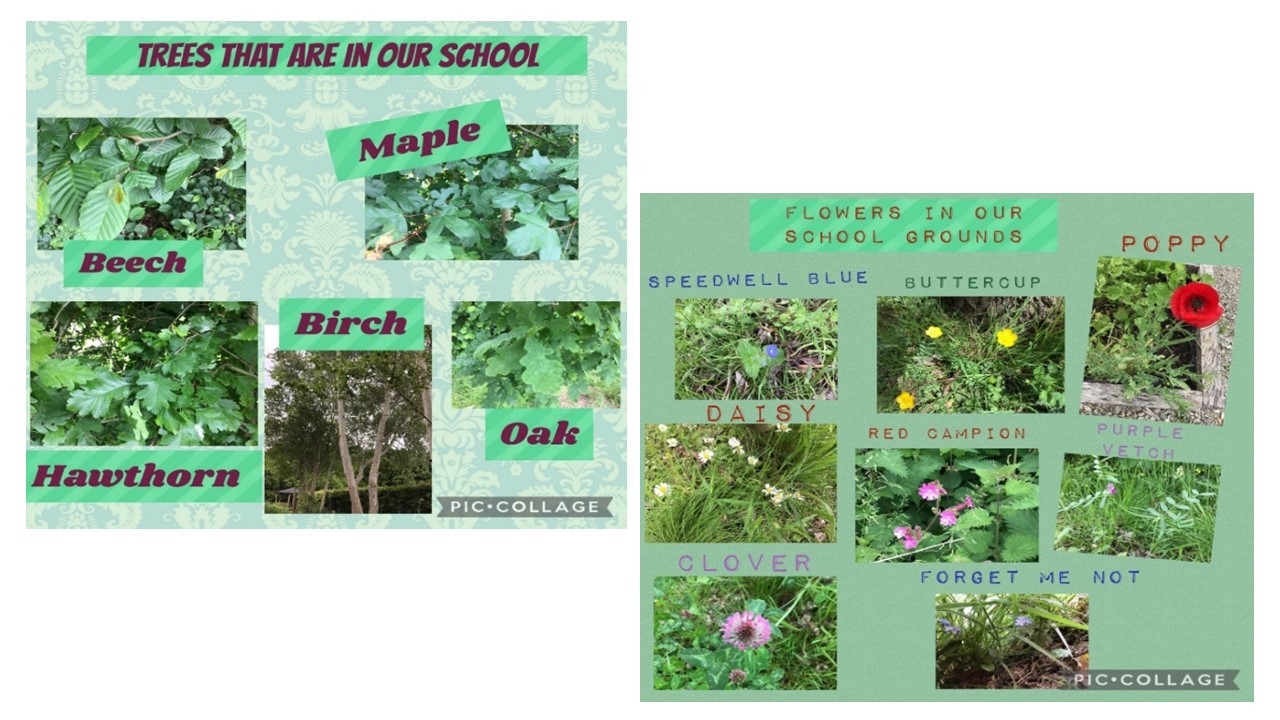 Children revamping one of the bug hotels and an amazing rare sight of a fledging bluetit leaving its nest.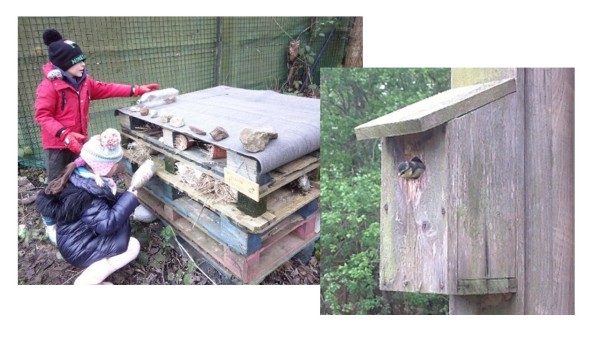 Allotment
Another opportunity for an outdoor learning experience is the Discovery School allotment.  We have a small orchard area, soft fruits such as strawberries and currants and raised beds for each year group where we use a crop rotation system.  This helps create a sustainable environment using the crops to replenish the soil with nutrients or aerate to improve soil texture.  In addition, the crop rotation ensures that each year group gets to grow a variety of crops.  We continue the ethos of sustainability by harvesting rainwater in water butts to water the plants, upcycle single use plastic for seed trays and plant containers and compost the compostable waste.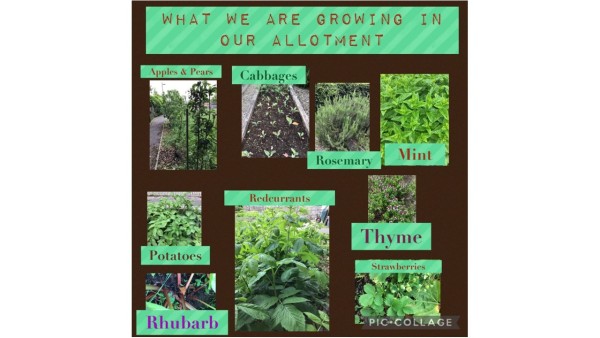 Pond
Adjoining the allotment area is the school pond where frogs can swim, birds can drink oh, and children can pond dip too!