EYFS Learning Updates
Welcome to our EYFS learning updates page
Term 1
Week 1/2/3 - slow transition weeks
EYFS have had a very busy start to their new adventure of starting school! The children have been so brave and are now walking in all by themselves! The children have been learning how to use their new inside and outside learning environment and they have been very good at learning how to share. Across our first two weeks we have had lots of fun getting to know each other and playing lots of exciting name games. The children have also made up their own class rules to follow so everyone knows how to make the right choices. Here are some pictures of us having fun in our new school:
Week 4 - 'Why is it good to be me?'
Week 4 was our first full week at school! We worked very hard! We have started to go on a journey to find out the answer to our question of discovery which is 'why is it good to be me?' We thought we would begin by learning about our feelings. We have been doing this through the story, 'The Colour Monster' and he has been teaching us about different feelings through colours and how we can tell each other how we are feeling. We have also been using our feelings stones every day to tell everyone how we are feeling and why. We have been doing lots of fun and exciting activities linked to this story and emotions:
This week we have also been learning about the Write Dance village! We found a special parcel with a letter in telling us all about the Write Dance people! Each week we are going to learn a different story and each story has a special song. Week 3 our story was about a volcano and week 4 was about the Write Dance people walking through valleys and forests and meeting exciting animals called Kronglidongs!
We have been doing lots of exciting activities linked to these stories and thinking about how the songs make us feel. Here are some of the activities we have been up to:
In Phonics we have been learning how to listen to sounds! We loved playing sound bingo, it was so much fun!
Show and Tell Shoeboxes
To learn more about each other we have been sharing our 'All About Me' shoeboxes which we made at home over the summer. We have been learning how to talk in front of the class and ask questions. We have loved learning about things others like and their families. We have discovered that some things are the same but some things are different. Most importantly we have been learning why it is great to be unique!
Write Dance Story 3
We received our third story from the Write Dance people and it was all about a robot called Zwarg! We were so excited we decided to learn how to make robots with junk modelling! We learnt how to cut, join and manipulate materials using a range of tools.
In Maths we have been learning about sorting and how to sort different objects into groups of two or three. We have been very good at using the colour skills we learnt from 'The Colour Monster' story! We have also enjoyed going on a Autumn walk and collecting signs of Autumn to help us sort:
Week 5
We have been very busy this week in EYFS learning about all the story 'Elmer'. We started our week by going on a colour hunt and then we made our own unique patch work elephants using printing with paint. We also learnt how to make a patch work patterns using tissue paper:
We have also been learning how to remember events from the story and put them in the right order of when they happened: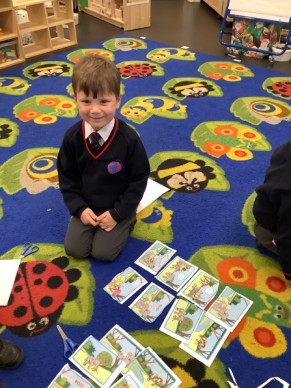 Our Write Dance story this week was all about a train which Zwarg the robot had made! We were very excited because we were also learning the 't' sound in Phonics! 
We did lots of exciting activities linked to the story:
In Maths we have been learning about size and measuring. We have learnt how to use language such as big, small, large and medium. We have also found ways to measure size and loved playing lots of fun games.
Our Elmer Portraits
This week we learnt how to use tissue paper to make a collage, just like Elmer's patch work! All our collages look different, just like us! We decided to draw our portrait on top to celebrate being unique.