Year 3 Learning Updates
Welcome to Year 3 2022 - 23
Term 1 Week 1
What a funny and informative start to Year 3! We enjoyed a visit from Fantastic Fred who taught us all about how to look after our mental health. Fred was very silly, but he taught us that we can help ourselves to feel good by thinking carefully about the Food we eat, making sure we Rest, getting enough Exercise and limiting our use of Devices. 
Term 1 Week 2 
Wow! What a wonderful start to our Year 3 journey. Our Question of Discovery this term is, 'What was life like in Prehistoric times?' 
We started year 3 with a fantastic WOW day where we travelled back to the Paleolithic (Old Stone Age) times by creating cave paintings using charcoal (we got very messy!) and blow pens. We learnt that people in Paleolithic times would have blown particles of colour through hollow bones, but we thought blow pens would be more colourful! We then jumped forward in time to Neolithic (New Stone Age) times and made clay pots. We decorated them with our fingernails as the Neolithic people would have done. Finally, we explored the outdoors and went hunting and gathering. Some of us even took down huge mammoths with our spears (foam javelins!). What an exciting day of learning to get us asking questions about life in Prehistoric times.  
Term 1 Week 3
This week was our Computing week. We discovered the answer to the question, 'What is block code and how can we debug it?' We worked in pairs to build a robot and wrote code to pull stones from Wales to Wiltshire, like modern-day builders of Stone Henge! We displayed our school values of kindness and perseverance and we all found success by debugging any errors in our code. We wondered whether the builders of Stone Henge in 3000 BC would have used the same technique as us...perhaps not!
15/7/22 - Ancient Greek Workshop
Yesterday, the children had an amazing time working with the staff at the 'Living History' workshops.  They learnt lots about life in Ancient Greece.  The children got to dress up in the clothes they would have worn at the time, had their face painted and decided whether they were for 'Athens' or 'Sparta'.  As well as this, the children took part in Greek plays and visited Greek shops.  A fantastic day was had by all!
12/7/22 - Strange Goings On!
This week, the Year 3 classes have been investigating some very strange goings on at The Discovery School.  Some local residents reported seeing unusual lights in the sky and hearing unusual sounds.  Miss Gobell and Miss Hammond discovered strange hot green goo on tables, crumbs leading from the small hall as well as what appeared to be burn marks on the school field.  They have drafted in the Year 3 classes to write a newspaper report on the strange goings on.  The children are hoping to get to the bottom of what caused all these strange events and will report back directly to Miss Gobell. Have a look at some of the unusual evidence discovered below.

8/7/22 - Archimedes and Pulleys
This week the children's studied the Ancient Greek mathematician and inventor Archimedes.  They learnt that, although he didn't invent the pulley, he developed pulley systems to be able to move giant ships.  Archimedes then sent the children a challenge to create a way to carry water to the top of his house to water his house plants!  The children had great fun creating pulleys using wool, a cotton reel, a pencil and a cup.  They then were able to test out how effective they were.  Have a look at the pulley they created below.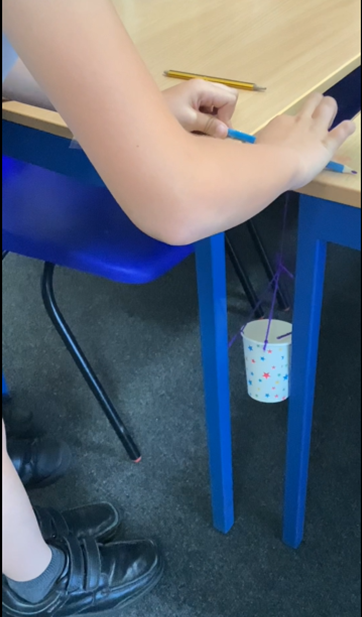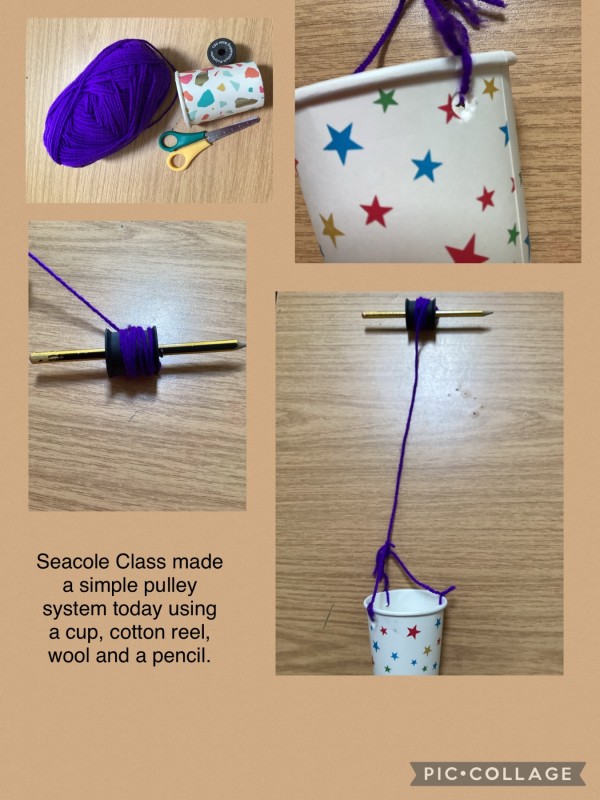 24/6/22 - Block Code on Purple Mash
The children have had a wonderful week exploring block code.  They remembered lots about block code from previous lessons.  They knew that some block code is recorded vertically and some is recorded horizontally.  The children could remember how to create repetitions as well as debug simple algorithms.  This week they explored debugging in more detail by solving various challenges on Purple Mash.  You can see two examples of their problem solving and algorithms below.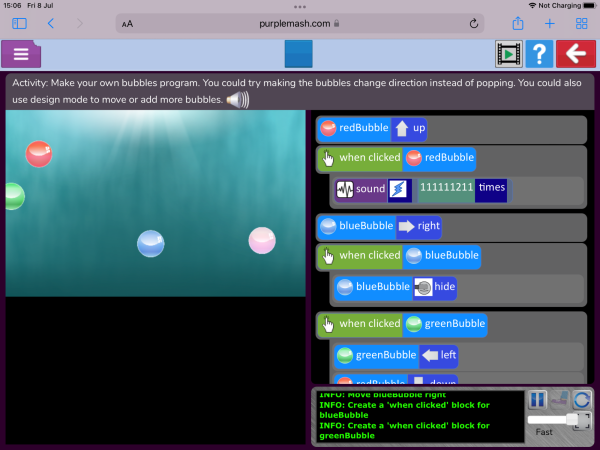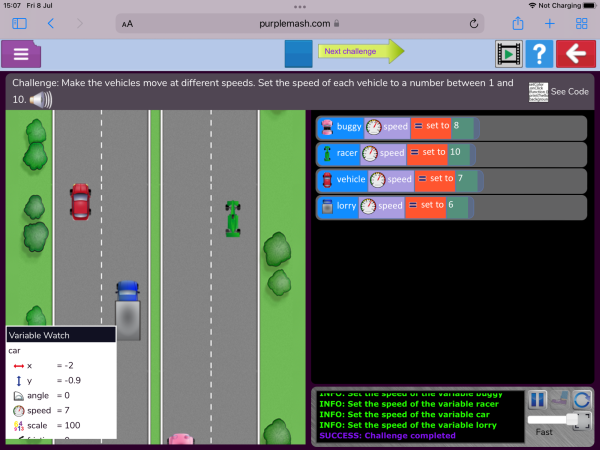 27/5/22 - Jubilee Celebrations
The children in Year 3 had an amazing week learning about the 1980s and the key events of the Queen's life in the 1980s. Year 3 found out that there were many key events during the Queen's life in the 1980s.  This included the arrival of three grandchildren, a break in at Buckingham Palace and travelling to the Vatican to meet the Pope.  The children researched the key facts about this using the internet and created leaflets about her life.  The children also had great fun learning about the music of the 1980s and performed the Katrina and the Waves hit 'I'm Walking on Sunshine' to the whole school. They also had a special message from the Queen requesting some food for her Jubilee celebrations.  She gave some design criteria that they had to follow.  The children created a delicious leek and potato soup for her! 
You can see a selection of the children's work from the week below.
10/5/21 - Equivalent Fractions
This week the children have been exploring different fractions.  They have looked at fractions plates, walls and all sorts of other resources!  Today we have focused in on fractions that are equivalent.  The children learnt that equivalent fractions are fractions that are the same amount but have been divided into different numbers of equal parts.  For example, 1/2 is the same amount as 4/8 or 8/16.  You can see how they investigated this below.
25/4/22 - Damaged Plant Detectives and Contour Lines on Potatoes!
This week the children were called in to investigate damage that had been caused to plants in the small hall.  They had to analyse the damage done and consider whether the damage was repairable or not.  They had to draw on their knowledge of plants from KS1 and think about what they wanted to find out as a result of what they had seen.  You can see some of the questions they considered and the damaged plants below.
In geography, the children learnt about how contour lines are used to represent the height and steepness of landscapes on maps.  They learnt that the features of the land is called the topographical features.  To help show how contour lines work, the children marked 1cm height marks around the circumference of a potato and then joined the dots.  By looking down from above, they could see what the contour lines would look like on a map.  You can see some of their efforts below.
18th March 2022 - Science Week and Geography
The children had a fantastic science week.  They learnt about the damage that global warming and pollution is causing penguins in Antarctica.  The children decided that they wanted to help save the penguins and decided to design a raft that could remove metal from the ocean and from their nesting areas.  During the week, they learnt about the forces of gravity, friction and magnetism.  They decided to use magnets to help them remove the metal from the nesting areas and the ocean.
In geography, the children have been learning about compass points and how to read a compass accurately.  They then put their learning into action by undertaking some Outdoor Adventurous Activities in PE.  You can see some photos of them exploring the compasses below.
9/3/22 Professor Bubbleworks
Today, the children had the wonderful opportunity to learn science alongside Professor Bubbleworks.  They learnt about how a bubble is formed, surface tension and what affected the shape of the bubble.  The children were able to get inside of some giant bubbles too!  During the workshop, the children also learnt about gravity, the water cycle and the key words of evaporation and condensation.  As you will see from the pictures below, all the children had an amazing time!
11/3/22 - Shadow Puppet Theatre
To cap the end of a very exciting week, the children showcased their learning about light in their science topic by creating a show puppet theatre.  The children learnt how shadows are formed by opaque objects blocking light from a light source.  They learn how the shadows changed size depending on how close they were to the light source.  you can see a few pictures of how they got on below.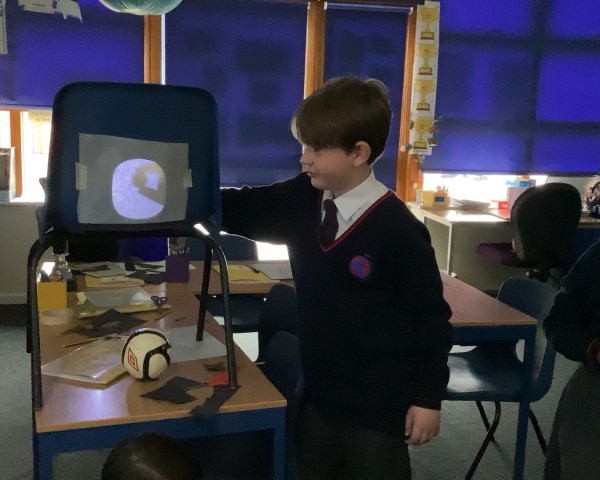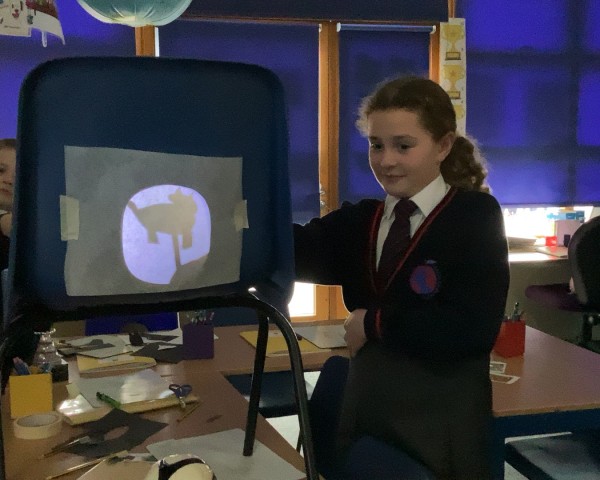 3/3/22 - World Book Day and 'Tin Forest' inspired art work 
The children had an absolutely amazing day celebrating World Book Day this week.  We had a very special assembly discussing lots of the teachers' and children's favourite books.  The children loved dressing up as their favourite book characters.  In Year 3, we studying the 'Tin Forest' as our World Book Day text all week.  We enjoyed creating our own version of the 'Tin Forest' as well as creating art work inspired by the text.  You can see some of our outfits and art work below.
2/3/22 - Bar Model Day
Today the children in Year 3 had a fantastic day exploring the bar model with our wonderful maths team.  The day involved hunting for problems linked to landmarks around the United Kingdom, considering the problem carefully and then representing the children's thinking using a bar model.  The children all really enjoyed the activities but also left the day with a much more secure understanding of how to model their thought process using bar models.  Have a look below at the how the children using manipulatives to support their thinking process.
2/2/22 - D&T - Creating a Golden Ticket Pouch for Charlie Bucket.
This week the children have had a fantastic time practising three different types of stitches.  They then used these to create a special pouch for Charlie Bucket to keep his golden ticket in.  The children worked really hard to master running, cross and blanket stitch.  Afterwards, they were able to evaluate their products and think whether it met the design criteria that was given to them by Charlie Bucket.  I'm sure you will agree that they look fantastic and the children did a really good job.
20/1/22 - Developing our coding skills and designing a product
This week in Year 3, we have been using our developing coding skills to try and problem solve and match design criteria.  The children were set a task of creating a dancing animation on Scratch Junior.  They had to make sure that the dancer had a partner to dance with.  They also needed a new background, a repeating part of the dance and had to make sure that the Sprite grew bigger and smaller and travelled slower and faster during the dance.  After supporting each other to find the correct blocks to make this happen, the children managed to create some fantastic animations.  They were then able to consider whether their algorithms were the most efficient way to make the dancer meet the design criteria.
The children have also really enjoyed starting a new design and technology topic.  Charlie Bucket has asked them to design a pouch to keep his golden ticket safe in.  The children found out lots of information about his likes and dislikes and then designed their own design criteria.  Using this design criteria, they have analysed other products and designed their own.  The children have also started to learn some different stitches.  Next week we hope to show you some of the finished designs.
10/2/22 - Year 3 Programming Animations and Creating Games
 This week the children have been building on their knowledge of algorithms and creating new forms of block code.  They have learnt that block code is always made up of blocks but these blocks might be represented in different ways.  When exploring Sprite Jr, the children found that the code went from left to right, just like it had on Lego WeDo2 earlier in the year.  However, they also found that, unlike Lego WeDo, they could write multiple lines of code to create a working animation.  Later in the week, the children learnt how to create their own 'Flappy Bird' game using 'An Hour of Code'.  The children found that the block code was represented vertically on 'Hour of Code' and loved solving the challenges.  You can see some examples of the games and code they created below.  
17/12/21 - Christmas Fun
The children have had a fantastic week this week.  They have been undertaking all sorts of Christmas activities.  They had a beautiful Christingle assembly by candle light.  Despite the assembly being held over Teams, the children loved singing together and enjoyed discussing the key features of the Christingle via candle light.  In maths, the children have tried to help stop Christmas events going wrong by solving a series of puzzles using methods they have learnt this year.  Luckily, they solved the riddles and saved the day!
Yesterday, the children had a fantastic day creating Christmas trees.  To do this, they had to paint paper plates, thread pipe cleaners through the plate to create tinsel and stick on various baubles on.  I'm sure you will agree that they look fantastic!  
The Year 3 team would like to take the opportunity to thank the children for all their hard work this term and also thank all the parents for your continued support.  We wish you a Merry Christmas a Happy New Year!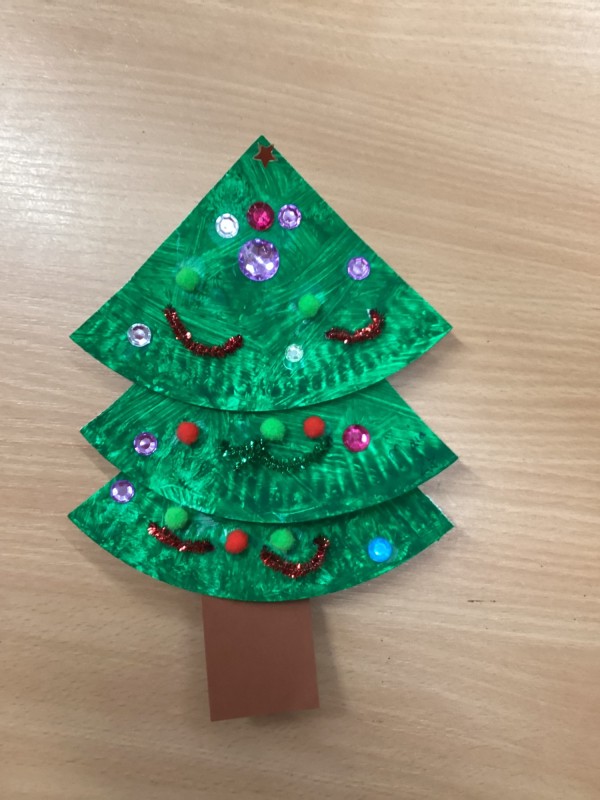 26/11/21 - Google Slides and Presentations
The children had an amazing week building on their word processing skills from last week by exploring presentation software.  This week they learnt how to insert text boxes and add transitions and animations to their work.  The children used Google Slides to present their work and were inspired by all the facts they have found out about life in prehistoric times.  We think you will agree that they look pretty impressive.  
22/11/21 - Modern Mammoths
This week the children amalgamated all their hard work in art into a final piece.  As you can see from the 'modern mammoths' we created, the children included pieces of their printed sequin rolls, bubble wrap and painted Ben Day Dots in a collages to create this very modern effect.  The children all loved working collaboratively on this project and I'm sure you will agree they look fantastic!  There is also a picture of the 'ink spray' hand prints that we created in the style of early cave painters.  They do look rather effective and the children had great fun making them.
19/11/21 - Word Processing
As well as having a great time exploring artwork this week, the children have also learnt about two Word Processors.  The children learnt to type using 2Type on Purple Mash and then used this skill to help them word process some new learning on the Bronze Age using 2Write.  They explored the formatting skills of adding bullet points, bold text, pictures and changing the font.  Later in the week, the children then typed up a best copy of their learning in English on Google Docs.  They explored the same formatting skills in Google Docs. Then they compared and contrasted which was the easiest and most effective program to chose and why.  Most children seemed to prefer the greater options that Google Docs enabled them to use.  You can see a few pieces of their work below.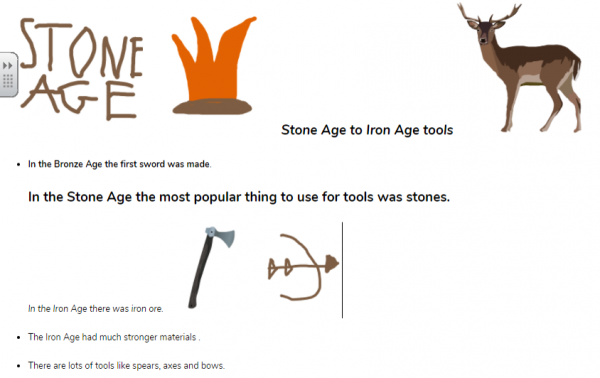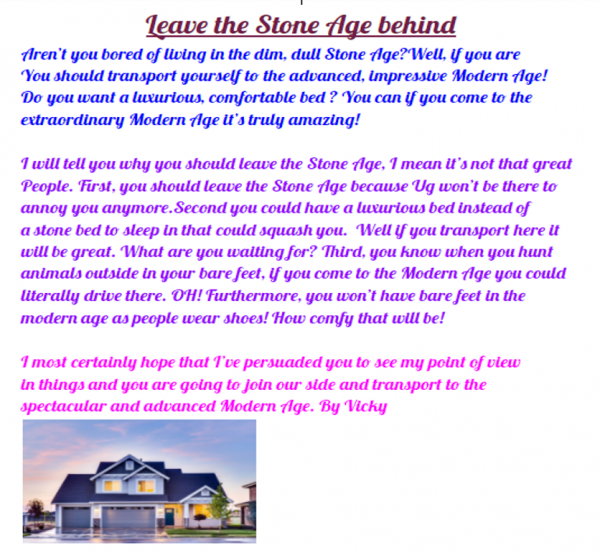 15/11/21 - Exploring Artistic Techniques
This week the children continued on from their learning about Roy Lichtenstein and explored dotting in a variety of different ways.  They learnt how to print using printing ink and rollers.  This created a fantastic 'Lichtenstein style' pattern when they used printing techniques with bubble wrap.  Further exploration, enabled them to create Ben Day Dots using painting software on the i-Pads.  Once they had completed this, they then printed and painted using sequin roll to create further dotty patterns.
In the afternoon, the children learnt how prehistoric people used to spray paint onto the walls of caves through hollow bones.  They then explored spraying and flicking painting techniques in the style of cave painters by using hands to create a silhouette.  You can see from the pictures below that the children did really well when they learnt these techniques.  The next stage is to put them together to create a class piece of artwork.  We look forward to sharing this with you.
8/11/21 - Art - Roy Lichtenstein
This week the children in Year 3 have had a fantastic week exploring mixing different colours and trying to replicate some of the choices of the artist Roy Lichtenstein.  They build on their knowledge of primary and secondary colours from Year 2 by learning that tertiary colours are made from mixing a primary and secondary colour.  They also learnt that complimentary colours are opposite each other on a colour wheel and analogue colours are next to each other.  The children then used this knowledge and mixed paint to try and replicate the Ben Day Dots used by Roy Lichtenstein.  Next, they will be expanding this knowledge in a multi-media approach.  Come back next week to see what the final pieces are like!
11/10/21 - Fantastic Learning at Kent Life
Last week the Year 3 children had the amazing opportunity to broaden and deepen their knowledge of the Stone Age through some fantastic workshops at Kent Life.  The children learnt about weapons and tools from the Stone Age.  They also got to meet a tribe member and find out all about life within the tribe.  All the children came back with an enriched knowledge of this period in history and had a fantastic time.  You can see how much they enjoy it from the photos below!
Week Commencing 27/9/21
This week the children have been delving deeper in their search for the answer to their Question For Discovery (What was life like in prehistoric times?).  The Year 3 children all decided that they wanted to know what houses were like in prehistoric times.  So, they set about researching Stone Age houses and learnt that the houses changed over time.  They discovered that the human race changed from hunter gatherers to farmers and that the houses changed as they did this.  To demonstrate their deepening understanding of Stone Age houses, they created replicas of houses from the Palaeolithic, Mesolithic and Neolithic eras.  The children learnt that the early humans lived in caves and moved around as they needed to source more food.  They learnt that some early settlers built tent like structures to live in, using turf and animal skins to cover them and make them waterproof.  Finally, they built more permanent structures as they changed to farmers.  You can see some of the amazing designs the children created below. 
24th September 2021 - Amazing Algorithms!
This week the children in Year 3 have started to find out more answers about our Question of Discovery: 'What was life like in prehistoric times?'.  They have explored the different types of houses that people used to live during the Stone Age and learnt how these changed across the Palaeolithic, Mesolithic and Neolithic eras.  They had to be secret detectives and find out about their own individual type of house or shelter and then share this with the class. You can see some examples of the great work they produced below.  
However, I think most children would say their most exciting learning this week was a fantastic robotics project using Lego Wedo 2.0.  The children learnt about how the stones found at Stonehenge travelled huge distances to be placed there and the people who moved them had no technology to help them to do it.  So, we decided to design a robot that could do all the pulling for them!  The children managed to write an algorithm that would help the robot pull the stones.  However, they found that they needed to debug (adjust) the code to help the robot travel with the stones over different surfaces. They learnt about how a motor is an output device and it is controlled by the algorithm. You can see some pictures of the children developing their robots below.