Year 6 Learning Updates
Prefects
Congratulations to all the children who were awarded their prefect badges and responsibilities this week! Our school prefects have an incredibly important role within the school, from conducting parent tours and showcasing how brilliant our school is, to helping with whole-school assemblies and duties. Whilst helping out around the school with many important jobs, our prefects are also ambassadors in demonstrating and upholding all our school values. 
Good luck in your first term's duties - we know you will all be great! 
15/09/2023 - A busy start! 
What a fantastic start our new Year Six students have made since returning to school! It's been a very busy and exciting beginning to the year, and we're already very much looking forward to the year ahead.
So far we have settled into out our new classes, began to assign class roles and jobs, got stuck into the curriculum and had a lot of fun launching our first, brand new topic - What was the Home Front?
Here are some photos of our learning and what we have been up to so far. 
05/05/2023 - King Charles III Coronation Celebration
This week, Year 6 have been practising their song to celebrate the King's coronation. We performed Hey Mr Miller from the 1940s decade. The 1940s was a very special decade for our King as this was the decade he was born.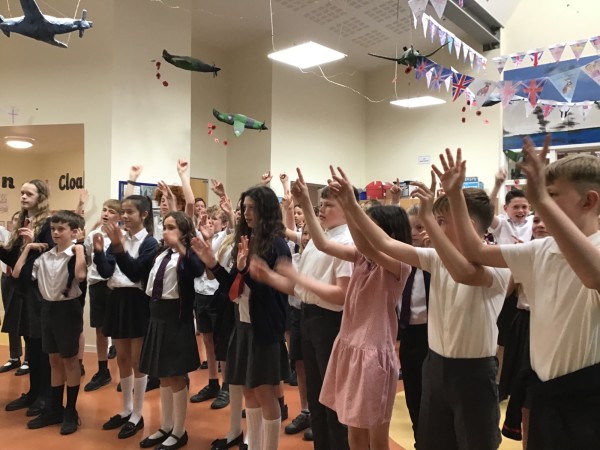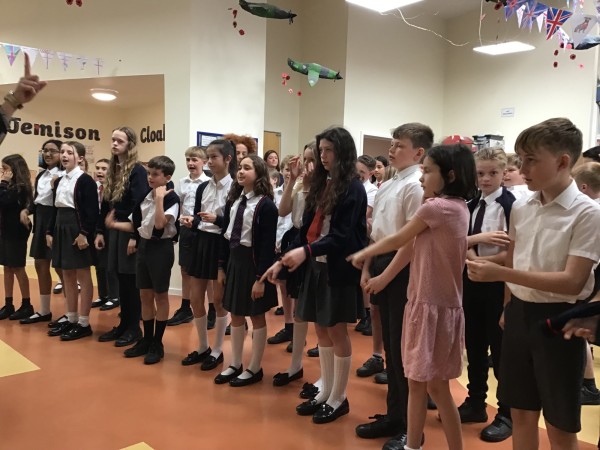 We also experimented with some artwork inspired by an artist called Nikki Farquharson. We designed our own abstract postage stamps using the our artist's style for the background.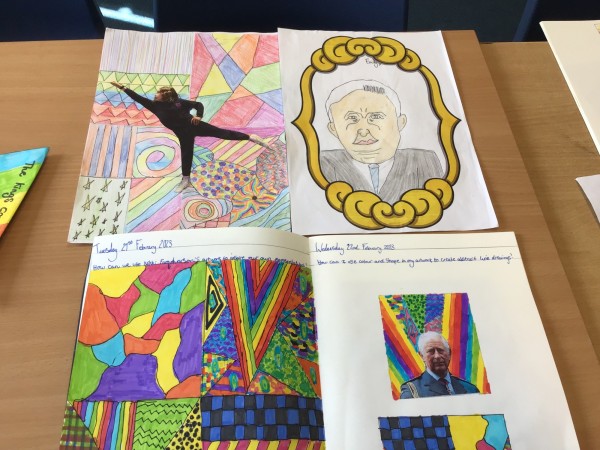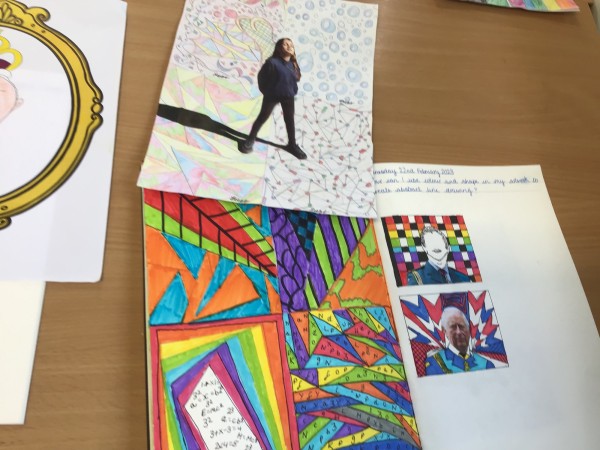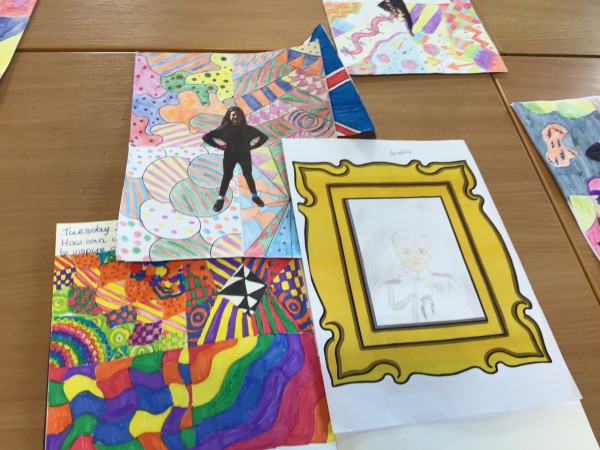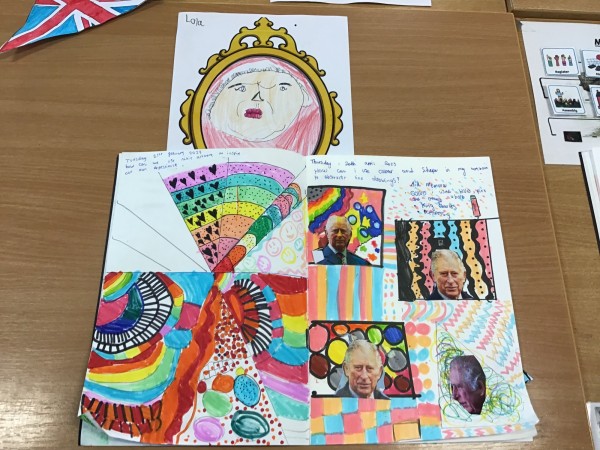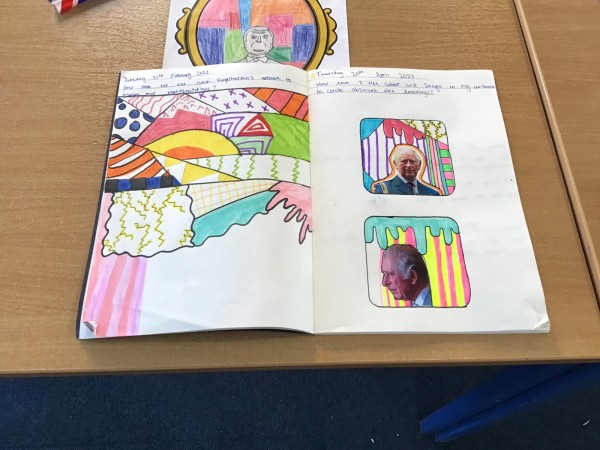 02/01/2023 - Born Free Visit 
Year 6 were joined by a very special visitor today. Her name is Charlie and she works for Born Free. Born Free are an animal charity that's passionate about wild animal welfare and Compassionate Conservation. They were founded by Virginia McKenna OBE, Will Travers OBE and Bill Travers MBE in 1984.  They work tirelessly to stop the exploitation and suffering of individual animals living in captivity or in the wild.
Charlie came to talk to the children about The Elephants in Crisis campaign and the affect this is having on the wild elephants in Africa. Charlie told us about the story of a young elephant called Pole Pole. 
The children wrote and performed passionate speeches about animals in zoos and they used the story of Pole Pole to back their arguments. The children were very enthusiastic about their views towards zoos and this spark excellent debate and compassion for animals in captivity.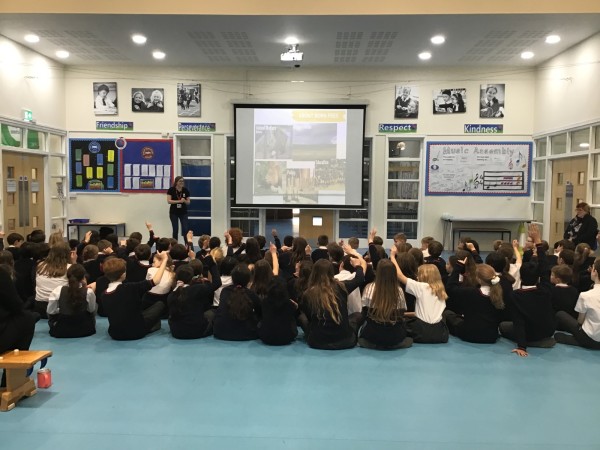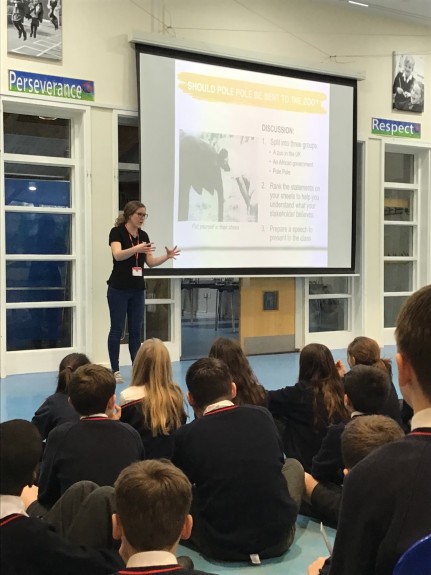 Year 6 Performance of 'Merry Christmas'
Year 6 sang Ed Sheeran and Elton John's 'Merry Christmas' beautifully!
16/11/2022 - WW2 Evacuee Experience at Horton Kirby
Yesterday, Year 6 had a fabulous day pretending to be evacuees! We arrived at our 1940s school before being introduced to the Head Master: Mr Tanner! We experienced a '1940s-style' lesson whereby we learnt how to convert between pennies, shillings and pounds, how to preform first aid, and how to identify ally planes and German planes. We then wrote a postcard home to our Mum's back in London. Suddenly, the air raid siren went off and we had to quickly make our way to the air raid shelter! In the shelter, we sang WW2 songs and continued our learning, just as the real evacuees would have done. After this, we played some 1940s playground games before having our lunch.
In the afternoon, we embarked on a walk around Horton Kirby, looking out for the buildings that were actually there during WW2! We listened to different real-life stories of the children that lived in the village before playing a game of 'pooh sticks'.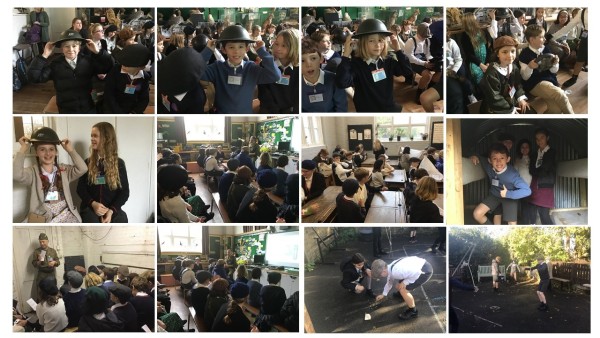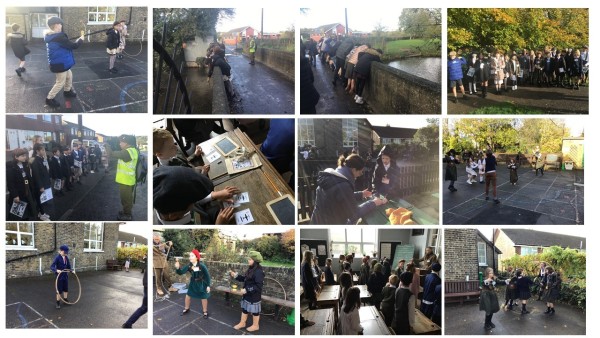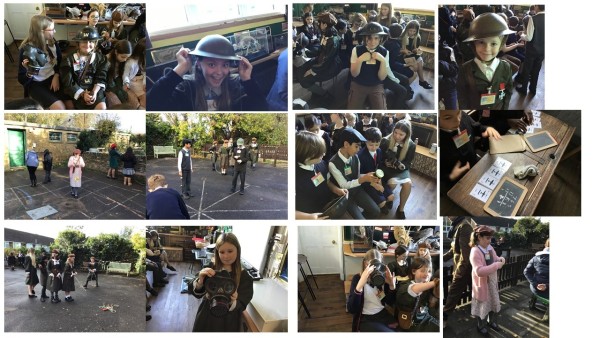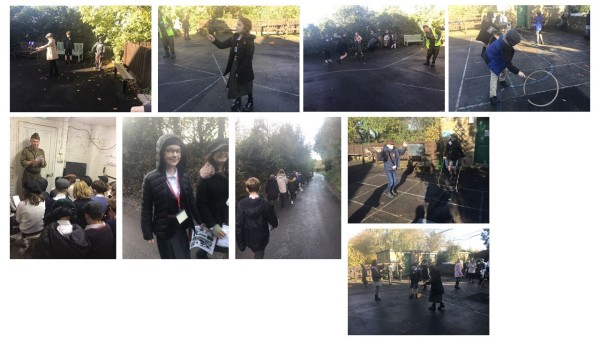 20/10/2022 - Periscopes!
In Science, we have been learning about how periscopes work and how they were used during the war. We then had our own secret mission to complete! The children had to make their own periscopes before moving around the school without being detected by the enemy! Their mission was to find the hidden letters using their periscopes to peer around corners in order to unscramble the secret operation code word!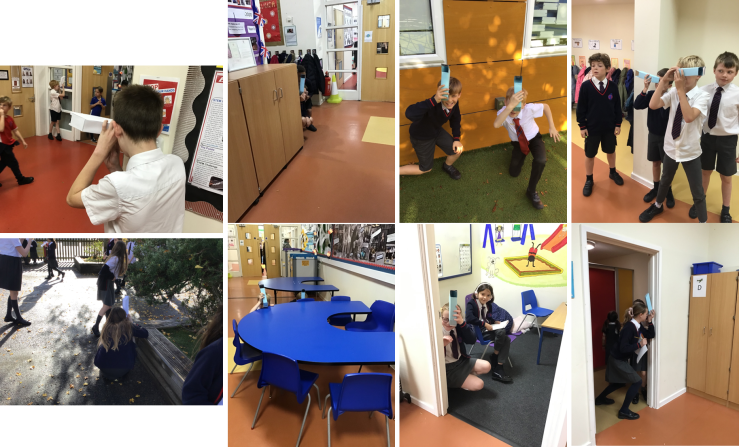 19/10/2022 - Celebrating Diwali 
Today, we celebrated Diwali as a whole school. The children had a special assembly about Diwali and were lucky enough to meet a visitor who is Hindu. In the afternoon, we created  Diwali art by making our own rangoli/kolam using colourful tissue paper. 


18/10/2022 - Sharing our WW2 Music to the rest of KS2!
Some of our Year 6s had the fantastic opportunity to share their music learning to the whole of KS2 in assembly today!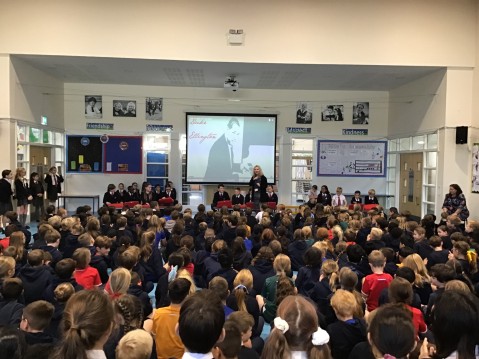 In our music lessons, the children have been learning about the 'big band' music that was listened to during the 1940s. They also learned how to play the C Jam Blues by Duke Ellington on the xylophone. As the children built on their knowledge and understanding, they then learnt about the meaning of improvisation and began to compose their own melody/riff.
Have a look at music the children had to follow when playing the C Jam Blues.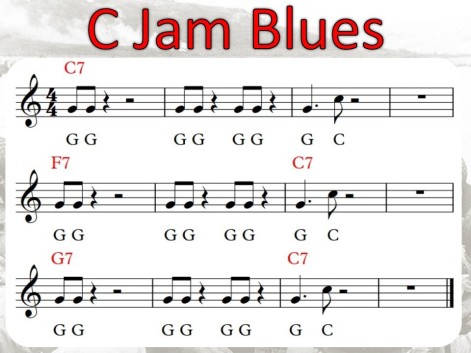 17/10/2022 - WW2 Walkabout Kings Hill
Today our Year 6 children went on a 'WW2 Walkabout' around Kings Hill. On our route we were making observations of human features that have changed the land around Kings Hill. This is known in geography as fieldwork research. We saw some fascinating WW2 relics including: 
The Officers' Mess
Churchill Square
The Control Tower
Two Pill Boxes
WW2 Memorial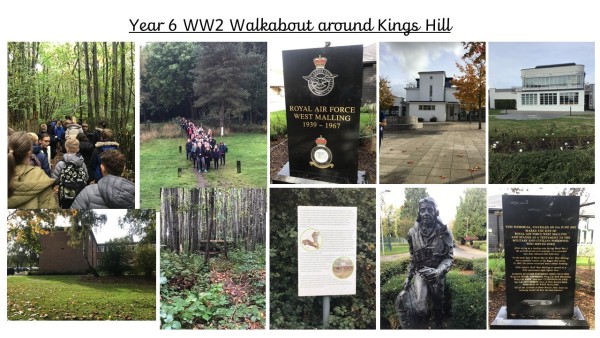 When we return to school tomorrow, the children will be creating maps of their route around Kings Hill to show their field work observations of the human features. Some children may choose to accurately draw a map free hand and some may choose to trace the outline of a map. The children will then annotated their maps to describe and explain the human features that we saw on our WW2 walkabout.
06/10/2022 Computing Week in Year 6
How can we create a website?
How do we check the plausibility of the information we are researching?
What is the importance of plagiarism?
Year 6 linked their WW2 learning to Computing this week! Using Google Sites, Year 6's challenge was to create a website all about Operation Dynamo, The Blitz and D-Day!
The children used many skills to complete this challenge including:
Using a search engine and selecting multiple web pages
Learning that you need to check multiple sources before believing information found on the internet is correct (checking the plausibility of your findings)
Learning about the issues surrounding copyright and plagiarism and the importance of acknowledging sources.
Learning that search results are ranked in order of relevance.
Comparing a range of sources to check the validity of information.
Learning that websites are a powerful tool to share information and that they should be targeted to an audience
To be successful with their creation of their website, the children had to:
Work with a partner and display good collaboration skills
Used their knowledge and understanding of science and the topic of light
Show perseverance and determination when learning new skills
 Watch this space for examples of Year 6's WW2 websites.
A visit from a Magistrate!
Today Year 6 were visited by Alvin, who is a judge in a Magistrate's Court! As the children are now 10 years old, it is important that they understand the responsibilities for their actions. Alvin gave a very informative talk to each Year 6 class about our British Justice System and how it all works. The children learnt about many different aspects, including:
What are rules?
Why is it important to have and follow rules?
What the meaning of a crime is
The different levels of seriousness for each crime
They saw inside a court room 
Who works in a court room?
What the consequences of a crime may be
What a criminal record is
Saw images inside a prison and what it might be like
The children were incredibly mature with their answers and questions that they were asking Alvin. They all found the talk very interesting and said were all very engaged throughout. Thank you, Alvin for our visit! 
15/09/2022 - Year 6 Computing - How can we use block code to create complex algorithms ready to transfer our knowledge to written code?
This week Year 6 have been using their prior learning from Year 4 and 5 to make the link between written code and block code. They were given challenges to complete using the coding software 'Scratch'. Some of challenges included:
Can you make your sprite rotate clockwise, pause for a small amount of time and then rotate anti-clockwise?
Can you make your sprite make a noise but can you change the pitch and volume?
Can you add another sprite and make it look like the two sprites are chasing each other?
SUPER CHALLENGE: Can you create a scratch game which involves a points system? i.e. points allowed and points deducted.
The children focused on creating and debugging algorithms that successfully completed the tasks. They were also challenged to change and use the most efficient algorithm and discovered why this was more effective than longer blocks of code.
Next time, the children are going to begin using written code using Python in Pieces in order to develop their coding skills further with making the link between block code and written code.
Please see below some examples of the children's code using 'Scratch'. Click on the image to take you to the children's project.