Year 6 Learning Updates
Computing Week in Year 6 - How do we create a website?
Year 6 linked their Science learning to Computing this week! Using Google Sites, Year 6's challenge was to create a website all about light!
The children used many skills to complete this challenge including:
Using a search engine and selecting multiple web pages
Learning that you need to check multiple sources before believing information found on the internet is correct
Learning about the issues surrounding copyright and plagiarism and the importance of acknowledging sources.
Learning that search results are ranked in order of relevance.
Comparing a range of sources to check the validity of information.
Learning that websites are a powerful tool to share information and that they should be targeted to an audience
To be successful with their creation of their website, the children had to:
Work with a partner and display good collaboration skills
Used their knowledge and understanding of science and the topic of light
Show perseverance and determination when learning new skills
Watch this space for examples of Year 6's 'All about Light' websites.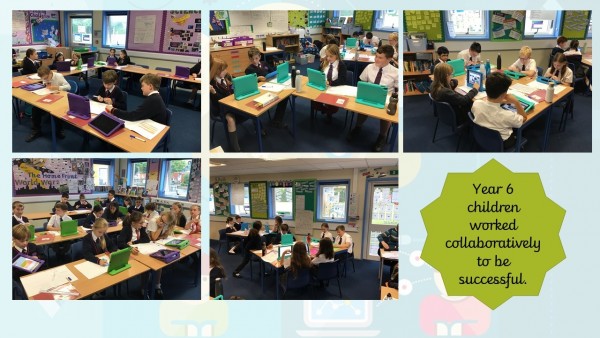 Week One fun with a World War Two Treasure Hunt!
Today the Year 6 children were set a special mission by the Prime Minister to complete an important task to help Great Britain and their allies. They had to go under cover and locate some key information for the allied forces.  The information provided them with a secret code: THE HOMEFRONT. 
By cracking the code, the children discovered one of the most important things that helped us to win the war!
The children also had the opportunity to look, appreciate and research some WW2 artefacts.