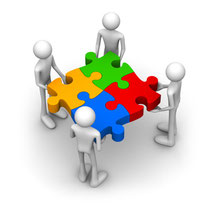 As well as providing support for the children, we also recognise the demands that home learning may have upon you. Below is a selection of websites which may help you to support your children in some of their learning. Your child's teacher can also provide support and advice too. Additional information and guidance can also be found on your child's year group pages. 
---
Maths Dictionary: A great resource from Third Space Learning which explains terms and concepts for both parents and children.
White Rose Maths: White Rose have created 5 online lessons each week for the children to watch and then some suggested activities which the children could do. These videos are also really informative for parents too as it shows the different ways children are taught in maths.  Click here to visit the website.
---
Audible:    https://stories.audible.com/start-listen Audible are offering their service for free during school closures. They have a range of audio books and songs for the children to listen to. 
Phonics Play: https://www.phonicsplay.co.uk/ Many of the EYFS and KS1 children will be familiar with Phonics Play as we often use it in school. They have provided parents with free access during the period of school closures. To access the website you will need the user name of: march20 and the password of home.
World E Book:   https://worldbook.kitaboo.com/reader/worldbook/index.html#!/   This website has free access to over 3000 books which would help with any topic related learning. You do have to register to gain access to the books.
Oxford Owl:  https://home.oxfordowl.co.uk/books/free-ebooks/  Free access to a 100 eBooks. 
---
Cosmic Yoga:  https://www.youtube.com/user/CosmicKidsYoga   Many of the children will be familiar with Cosmic Yoga as we often use it in school.
Super Movers: https://www.bbc.co.uk/teach/supermovers   Another resource from the BBC which helps the children to learn through active activities.
Joe Wicks:  https://www.youtube.com/channel/UCAxW1XT0iEJo0TYlRfn6rYQ  Joe Wicks, of Lean in 15 fame, has promised that as long as schools are closed that he would post a daily workout for free. He has a live show at 9am each week day for the children to take part in, or they can catch up with the workout later in the day through his YouTube channel.
Mote Park:  have created an orienteering course for you children to participate in. Instructions of this, along with a map, can be found below. Please do remember and follow the government's social distancing guidance if completing this activity. 
Kent School Games: have created personal challenges for children. Try to get the children to complete each activity daily, recording their results as they go. They should see that each time they do it, they get better each time. These challenge card and activities can be found below. 
Obstacle course: You could get your children to make an obstacle course either inside or outside. They could do activities such as jumping over a flower pot, going through a cardboard box, dribbling a football, bunny hopping over a bench and weaving in and out of a line of chairs. They could time themselves each time they do the course, can they improve on their times each time they play?
Circuits: Children could design a small circuit workout for themselves. This can be done both inside and outside. An example of some child friendly circuit activities can be found on the following website: https://www.twinkl.co.uk/resource/nz-pe-1-fitness-challenge-cards You can use the free Twinkl access code below to access these cards.
Sport England:  https://www.sportengland.org/stayinworkout have produced tips, advice and guidance on how to keep or get active in and around your home
Kent Sport.Org: https://www.kentsport.org/coronavirus/ have collected a range of resources to help the whole family stay active during the coronavirus lock down. 
---
Blue Peter Badges: https://www.bbc.co.uk/cbbc/joinin/about-blue-peter-badges There are a range of Blue Peter badges that the children can work towards whilst being at home. When they have completed the tasks, the children need to send their evidence by post to Blue Peter. 
Crest Awards: https://www.crestawards.org/crest-star For children who love their science and technology, this maybe an award they might like to gain. It consists of 8, 1 hour projects to take part in. It costs £1:00 to join the award. 
Collins: https://collins.co.uk/pages/support-learning-at-home have created a range of free resources to support home learning.
Twinkl: https://www.twinkl.co.uk/resources/extra-subjects-parents/school-closures-category-free-resources-parents/school-closures-free-resources-parents  Twinkl is another great website which you can download a range of resources and booklets for free. They have created a free home learning pack for each year group. You will need to use the access code: UKTWINKLHELPS to help access these booklets.
TTS:  https://www.tts-group.co.uk/home+learning+activities.html
This education site has developed home learning booklets for parents, which are also free to download. They have a range of activities from across the curriculum for the children to work through. These books are available for EYFS, KS1 and KS2. 
BBC: https://www.bbc.co.uk/bitesize/primary
The BBC have a great selection of resources which may help with some of the research based activities that the children may have for their learning. It is also has good revision sections for the children, especially in the spelling and grammar section.
National Geographic: https://www.natgeokids.com/uk/  An excellent website for finding out facts about the natural world. 
---